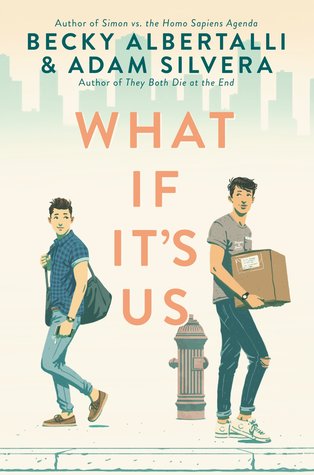 Title:
What If It's Us
Author:
Becky Albertalli and Adam Silvera
Publisher:
HarperTeen
Publication date:
October 9, 2018
Pages:
448
Source/format:
e-ARC//Publisher
Rating:
☆☆☆☆
Synopsis (from goodreads.com):

Arthur is only in New York for the summer, but if Broadway has taught him anything, it's that the universe can deliver a showstopping romance when you least expect it.

Ben thinks the universe needs to mind its business. If the universe had his back, he wouldn't be on his way to the post office carrying a box of his ex-boyfriend's things.

But when Arthur and Ben meet-cute at the post office, what exactly does the universe have in store for them?

Maybe nothing. After all, they get separated.

Maybe everything. After all, they get reunited.

But what if they can't quite nail a first date . . . or a second first date . . . or a third?

What if Arthur tries too hard to make it work . . . and Ben doesn't try hard enough?

What if life really isn't like a Broadway play?

But what if it is?
M Y T H O U G H T S
Arthur Seuss is interning at a law office in NYC for the summer. Originally from Milton, GA, he is already having a difficult time adjusting to his new surroundings. He misses his home, his friends, his car and even Waffle House. He still keeps in contact with his best friends Ethan and Jessie and he cannot wait to go home until he meets Ben at the post office.
Ben Alejo is recovering from a breakup and intended to mail Hudson's belongings back. However, instead, he meets Arthur at the post office. A flash mob comes forth and Ben leaves the post office with the breakup box still in hand. He has nothing to do but hop on a train to visit his best friend Dylan. However, Ben left behind a shipping label that acts like Cinderella's glass slipper. Arthur is determined to find Ben in the populous Big Apple.
What If It's Us
is written by the dynamic duo Becky Albertalli and Adam Silvera. With their style of writing merging together,
What If It's Us
is a book that opens new doors. From it's pop culture references to humorous situations like being caught in a flash mob wedding proposal to the fate being on their side, Albertalli and Silvera know how to write a book to induce major feels. Also, not only is the writing fantastic and there is great character development, but the diversity within the novel is perfect. From religion to ethnicity to identity to ability, this novel covers a lot of bases without feeling forced; it's natural. It represents life in modern day.
Within the novel, fans of Albertalli and Silvera can tell right from the get go who wrote each character. Arthur's and Ben's voices are distinguishable from one another and they have their own personalities. We have musical loving Arthur who has dreams of going to Yale. And then we have Ben who is currently writing a fantasy novel, currently in summer school and he is trying to get over his breakup with his ex-boyfriend. The concept of the plot is a subtle but genius one. It just works so well.
What If It's Us
is apologetically honest. The characters can be blunt but they channel their true feelings and thoughts to the readers. Readers can connect with what the characters are going through. Nothing is sugarcoated. Everything is real and raw. Albertalli and Silvera have a way of connecting with their audience where the readers understand the characters in their books. I highly suggest readers of YA contemporary to read this book! If you want to read an uplighting, cute novel with a dash of humor, definitely check out
What If It's Us
.