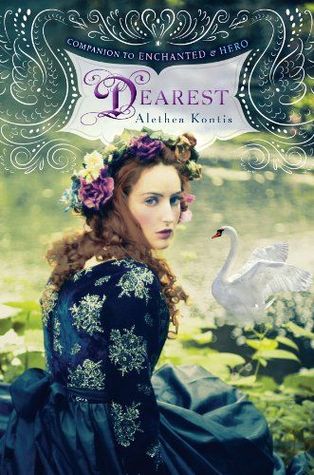 Title:
Dearest
Author:
Alethea Kontis
Publisher:
HMH Books for Young Readers
Publication date:
February 3, 2015
Pages:
288
Source/format:
ARC from BEA 2014
Rating:
☆☆☆
☆
Synopsis (from Goodreads):

"A fabulous fairy-tale mashup that deserves hordes of avid readers. Absolutely delectable." —Kirkus Reviews, starred review of award-winning series debut Enchanted

Readers met the Woodcutter sisters (named after the days of the week) in Enchanted and Hero. In this delightful third book, Alethea Kontis weaves together some fine-feathered fairy tales to focus on Friday Woodcutter, the kind and loving seamstress. When Friday stumbles upon seven sleeping brothers in her sister Sunday's palace, she takes one look at Tristan and knows he's her future. But the brothers are cursed to be swans by day. Can Friday's unique magic somehow break the spell?
My Thoughts:
We heard about Sunday's story in
Enchanted
and Saturday's journey in
Hero
. Now it's Friday's turn in
Dearest.
Friday is one of the Woodcutter sisters and when I found out
Dearest
is dedicated to Friday, I was beyond excited because I get to hear her story. After all, she is one of my favorite Woodcutter sisters. Friday is the child who is loving and giving. She is selfless, caring and an accomplished seamstress. Friday's passion for caring for her loved ones fuels her. Her caring heart becomes her strength.
Dearest
is loosely based off a blend of
Six Swans
and
The Goose Girl
. After Saturday calls upon an ocean in
Hero
, Friday is there to help those in Arilland who are affected by the great big flood. She meets Tristan and his siblings and find out about a curse.
The character development and originality are excellent in
Dearest
. Kontis does a fantastic job with creating a character's voice. With so many characters, it's important to have an established voice for each character in order to tell characters apart from one another.
Because
Dearest
is a fairytale, there is a little bit of action, a little bit of romance and of course a little bit of finding yourself. I love how whimsical the novel is just like its predecessors. I am biased about instalove in novels but because
Dearest
is a fairytale retelling, I'll let it slide. I am very picky about fairytale retellings but I love how Alethea Kontis makes quintessential fairytales her own. Her stories are magical and quite frankly she is pretty magical herself!
Although I enjoyed
Enchanted
the most out of the three Woodcutter fairytales,
Dearest
is a close second. I highly suggest it to those who love the magic of a good fairytale. I hope Kontis considers writing a novel about Thursday the pirate queen because that will be an incredible story to read.