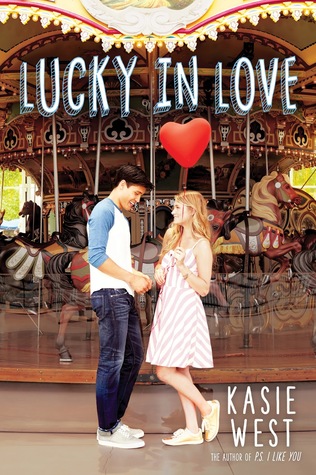 Title:
Lucky in Love
Author:
Kasie West
Publisher:
Scholastic
Publication date:
July 25, 2017
Pages:
333
Source/format:
Publisher//ARC
Rating:
☆☆☆
☆
Synopsis (from goodreads.com):

In this new contemporary from YA star Kasie West, a girl who wins the lottery learns that money can cause more problems than it solves, especially when love comes into the picture.

Maddie doesn't believe in luck. She's all about hard work and planning ahead. But one night, on a whim, she buys a lottery ticket. And then, to her astonishment --

She wins!

In a flash, Maddie's life is unrecognizable. No more stressing about college scholarships. Suddenly, she's talking about renting a yacht. And being in the spotlight at school is fun... until rumors start flying, and random people ask her for loans. Now, Maddie isn't sure who she can trust.

Except for Seth Nguyen, her funny, charming coworker at the local zoo. Seth doesn't seem aware of Maddie's big news. And, for some reason, she doesn't want to tell him. But what will happen if he learns her secret?

With tons of humor and heart, Kasie West delivers a million-dollar tale of winning, losing, and falling in love.
M Y T H O U G H T S
"We make our own luck...We chose our own fate. We controlled our own future."
Maddie Parker is a senior at Tustin High School. She has two close friends, Elise and Blaire, and she currently works at the Santa Ana Zoo. Maddie's dream school is UCLA and she wants to study veterinary medicine. Although Maddie works hard in school, she is worried about the finances to pay for college. She is hoping she will get decent amount of scholarships since there are finance issues at home. Her mother works overtime and two jobs and her father is still on the lookout for a job. Beau, her brother, took some time off from college to try to get a job to pay off his loans. Maddie doesn't believe in luck but one day she buys a lottery ticket on the whim and she wins! She thinks the lottery winnings will solve her problems but unfortunately money isn't everything.
Kasie West wrote a honest book about real life things that teens have to worry about. Many teens are often trying to find ways to pay for their college tuition and fees and there are many teens who have finance issues at home. When there is not a lot of money to pay for things, it can put a damper to your spirit. However, Maddie makes the most of it and tries to be optimistic.
Lucky in Love
teaches readers that there is more to life than money. Sometimes people change because of money. Who can you trust? Maddie had to learn the hard way about which people are there for her just for her and not for the money. She had to learn who she can trust.
I love how Maddie is a hard worker and she strives for the best. Even though things are tough at home in terms of finances, she makes the best of what she has. Maddie has supportive friends that always has her back. Elise and Blaire are always there for Maddie. Seth Nguyen, Maddie's coworker, has always had an honest friendship with Maddie. I haven't read too many books with an Asian male love interest so it's refreshing to see this type of interracial relationship in a YA novel.
Seth is probably one of the very few people in the book that isn't using Maddie for their own benefit. He is the one that Maddie looks forward to see everyday. Also, there is no instalove in this book which I love! I enjoy reading about relationships that slowly progress from a friendship into something more. Maddie's quirk of randomly saying facts is something I can relate to since I do the very same thing. I appreciate Seth's passion in film making despite her parents disapproval of it as a career. Because Seth and Maddie attend different schools, it's nice to see them bond at work at the Santa Ana Zoo. There is no pressure in school to act a different way since they only see each other at work for the most part.
Lucky in Love
is a fluffy contemporary novel that teaches teens good morals and has a cute friendship that blossoms into something more. It's the perfect summer read and you will fly through the book with a smile. I highly suggest this novel for those who enjoy
To All the Boys I've Loved Before
,
When Dimple Met Rishi
and
I Believe in a Thing Called Love
.