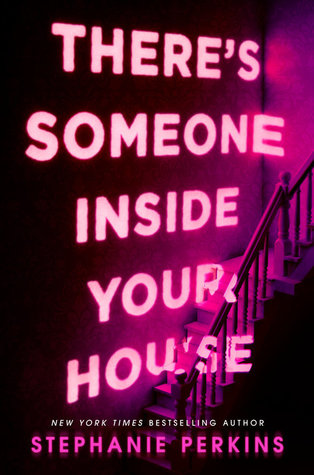 Title:
There's Someone Inside Your House
Author:
Stephanie Perkins
Publisher:
Dutton Books for Young Readers
Publication date:
September 26, 2017
Pages:
289
Source/format:
Publisher//ARC
Rating:
☆☆☆
Synopsis (from goodreads.com):

Scream meets YA in this hotly-anticipated new novel from the bestselling author of Anna and the French Kiss.

One-by-one, the students of Osborne High are dying in a series of gruesome murders, each with increasing and grotesque flair. As the terror grows closer and the hunt intensifies for the killer, the dark secrets among them must finally be confronted.

International bestselling author Stephanie Perkins returns with a fresh take on the classic teen slasher story that's fun, quick-witted, and completely impossible to put down.
M Y T H O U G H T S

Stephanie Perkins is known for her Anna and the French Kiss companion trilogy but this is her first time launching a horror novel! The novel starts off with a group of girls talking about the Sweeny Todd production that they are apart of at Osbourne High School in Nebraska. Unfortunately, one of the girls in the production is murdered at home and is the first of many students who are killed within the novel.

Makani Young moved from Hawaii about a year or so ago to Osbourne, Nebraska and still is trying to fit in. Her friends Darby and Alex and supportive and she is beginning a steady relationship with Ollie. Makani left Hawaii because of a scandalous past that caused her to change her last name. Her grandmother currently raises her in Nebraska and her parents find her a nuisance and a burden.

Although the novel is a horror novel, I find the book a fusion of contemporary and horror. There are a lot of instances of Makani and Ollie hooking up in the novel. The novel is more of a contemporary with scattered instances of horror weaved into There's Someone Inside Your House. Just a warning, there are instances of a lot of make out sessions, sex and hazing in the novel. I was a little put off by it because of how intense the hazing situation is.

Readers find out about the murderer earlier than expected. Half way through the book, Makani meets the killer and becomes a victim. Unlike the other victims, she survives. I didn't expect to find out about the killer so soon. I was hoping for the suspense to last until the very end where clues led to identity of the murderer. I also find it ironic how the school is doing a Sweeny Todd production during the time the serial killer is out to kill many students who attend Osbourne High School. The show ends up being cancelled due to the grieving community and the nature of Sweeney Todd.

There's Someone Inside Your House is written in third POV and readers will know what is happening to each character right away. Sometimes it can be hard to follow the plot with so many characters in the book. I recommend this book for those who like contemporary novels but want to have a taste of horror but aren't ready for a full blown suspenseful horror novel.