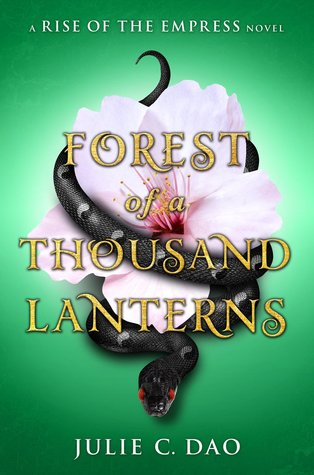 Title:
Forest of a Thousand Lanterns
Author:
Julie C. Dao
Publisher:
Philomel Books
Publication date:
October 10, 2017
Pages:
384
Source/format:
Publisher//ARC
Rating:
☆☆☆
☆
1/2
Synopsis (from goodreads.com):

An East Asian fantasy reimagining of The Evil Queen legend about one peasant girl's quest to become Empress--and the darkness she must unleash to achieve her destiny.

Eighteen-year-old Xifeng is beautiful. The stars say she is destined for greatness, that she is meant to be Empress of Feng Lu. But only if she embraces the darkness within her. Growing up as a peasant in a forgotten village on the edge of the map, Xifeng longs to fulfill the destiny promised to her by her cruel aunt, the witch Guma, who has read the cards and seen glimmers of Xifeng's majestic future. But is the price of the throne too high?

Because in order to achieve greatness, she must spurn the young man who loves her and exploit the callous magic that runs through her veins--sorcery fueled by eating the hearts of the recently killed. For the god who has sent her on this journey will not be satisfied until his power is absolute.
M Y T H O U G H T S
Xifeng lives in a village with her abusive and sometimes cruel aunt. Fated by the cards to be Empress of Feng Lu, Xifeng lets out the darkness deep within her out. However, her evil and cunning thoughts can be deadly.
Because Xifeng follows her destiny of greatness, she ends up missing out on the finer parts of life. She is blinded by the fact that she can live a wonderful life with Wei, who ultimately would do anything for Xifeng. I absolutely adore Wei and it pained me to see Xifeng always coming up with excuses when Wei told her to run away with him or when he asked for her hand in marriage. Unfortunately, Xifeng is hungry for power and not for love. Even though Xifeng can be ruthless, she finds a friendship with Kang, a eunuch at the Imperial Palace, which I find good for her since she needs to have someone that she can sort of trust.
Julie Dao has created many characters with multi-faceted personalities. The character development for Xifeng is well written. So much happens to the young lady that I cannot even fathom going through at such a young age. She blossoms overtime from a child who doesn't know how to please her aunt, Guma, to a dynamic and persuasive lady. Mythology is woven into the narrative along with a retelling of the Evil Queen of Snow White with an East Asian twist.
When the
tengaru
queen tells Xifeng that the destiny is true that she can become Empress, she also warns Xifeng of the sacrifices that Xifeng will have to make. The
tengaru queen
also mentions that there is one person who shall bring salvation and one who will bring destruction. Which will Xifeng be?
Xifeng is an ambitious anti-heroine and she reminds me of Adelina from The Young Elites series by Marie Lu.
Forest of a Thousand Lanterns
is an intoxicating dark fantasy novel for fans of the Evil Queen in Snow White and for fans of Levana from the Lunar Chronicles.
Forest of a Thousand Lanterns
starts off as a tame retelling but it morphs into something deceitful, scandalous and downright wicked.