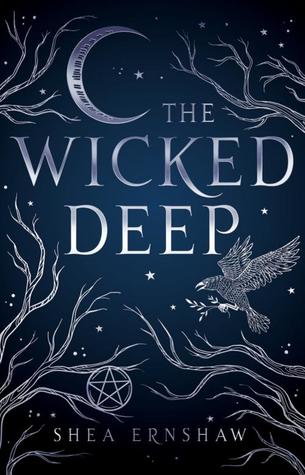 Title:
The Wicked Deep
Author:
Shea Ernshaw
Publisher:
Simon Pulse
Publication date:
March 6, 2018
Pages:
320
Source/format:
e-ARC//publisher
Rating:
☆☆☆
☆
1/2
Synopsis (from goodreads.com):

Welcome to the cursed town of Sparrow…

Where, two centuries ago, three sisters were sentenced to death for witchery. Stones were tied to their ankles and they were drowned in the deep waters surrounding the town.

Now, for a brief time each summer, the sisters return, stealing the bodies of three weak-hearted girls so that they may seek their revenge, luring boys into the harbor and pulling them under.

Like many locals, seventeen-year-old Penny Talbot has accepted the fate of the town. But this year, on the eve of the sisters' return, a boy named Bo Carter arrives; unaware of the danger he has just stumbled into.

Mistrust and lies spread quickly through the salty, rain-soaked streets. The townspeople turn against one another. Penny and Bo suspect each other of hiding secrets. And death comes swiftly to those who cannot resist the call of the sisters.

But only Penny sees what others cannot. And she will be forced to choose: save Bo, or save herself.
M Y T H O U G H T S
"Love is an enchantress--devious and wild. It sneaks up behind you, soft and gentle and quiet, just before it slits your throat."
- ARC of
The Wicked Deep
The Swan sisters arrived at Sparrow, Oregon in 1822 abroad the Lady Astor. Marguerite, Aurora and Hazel eventually were outcasted as witches and were tied with rocks on their ankles, drowning to their deaths. A curse is placed on Sparrow and every year start on June 1st during Swan Season, the sisters take their revenge as they inhabit three girls while enticing men to a deadly fate.
During present day, the novel focuses on seventeen-year-old Penny Talbot who lives in Sparrow, a small seaside town with a population of 2,014. Penny, as well as other residents, knows about the local legend and accepts the fate. Swan Season becomes a morbid version of tourism in June. However, this year is different, Penny befriends a new guy named Bo Carter and she does everything she can to prevent Bo to be grasped by the curse.
Rose is Penny's best friend and they always got each other's backs. Penny's mom started losing her mind after Penny's dad vanished one day three years ago and never came back. There is something enigmatic about Penny's mom who reads tea leaves and can sense strangers around her. She tells Penny, "Your fate lies at the bottom of a teacup." Shea Ernshaw tantalizes all senses. From delicious cakes to the wonderful fragrances of the perfumery, Ernshaw has created a world where you can see, hear, taste, smell and feel Sparrow.
The romance in this novel can come off as instalove due to the short period of time covered in the book. I am very particular when it comes to romances within novels and I am often put off when there is instalove prevalent. However, I wasn't bothered too much with the instalove in this novel. At first, Penny was trying to push Bo away but later offers him food, shelter and a job. They get to know each other before they discuss their feelings. However, both Bo and Penny have their own secrets. I am smitten with Bo! Not only does he tells Lon to stop forcing Penny to do things she does not want to do but he is a likable and relatable character. Penny and Bo are such a cute couple and I was rooting for them during the whole novel.
From alluring siren singing to the eeriness of a pirate shipwreck,
The Wicked Deep
is a beautifully written, enchanting, character-driven novel with lots of twists and turns. The novel weaves magic with romance with a dash of revenge. I highly suggest this novel for those who love
Hocus Pocus
,
How to Hang a Witch
,
Practical Magic
and for anyone who likes to novels about witches and magical realism.