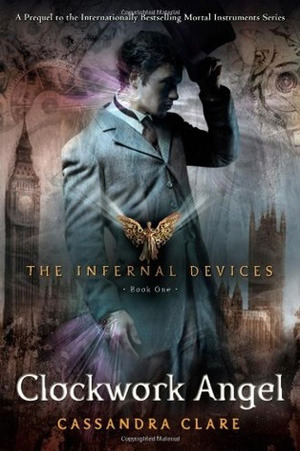 Title:
Clockwork Angel
Author:
Cassandra Clare
Publisher:
Simon & Schuster, Margaret K. McElderry
Publication date:
August 31, 2010
Pages:
479
Source/format:
Borrowed from the library, hardcover
Rating:
☆☆☆☆
Synopsis
(from Goodreads)
:
In a time when Shadowhunters are barely winning the fight against the forces of darkness, one battle will change the course of history forever. Welcome to the Infernal Devices trilogy, a stunning and dangerous prequel to the New York Times bestselling Mortal Instruments series.

The year is 1878. Tessa Gray descends into London's dark supernatural underworld in search of her missing brother. She soon discovers that her only allies are the demon-slaying Shadowhunters—including Will and Jem, the mysterious boys she is attracted to. Soon they find themselves up against the Pandemonium Club, a secret organization of vampires, demons, warlocks, and humans. Equipped with a magical army of unstoppable clockwork creatures, the Club is out to rule the British Empire, and only Tessa and her allies can stop them....
My Thoughts:
I have been following Cassandra Clare ever since she wrote Harry Potter fanfiction and had a presence on Livejournal way back when I was in high school. When I found out about her Mortal Instruments series and her Infernal Devices series, I knew I had to read both series.
Clockwork Angel
is the first book in the Infernal Devices series. I love the fact that the Shadowhunter world takes place in the late 1800's. It's part historical fiction and part paranormal fantasy which are two of my favorite genres to read.
The world building of this book is amazing and the characters Cassandra created are phenomenal. I love the interactions between Tessa, Will and Jem. Also, who doesn't like Magnus? Cassandra does an awesome job with the descriptions about the time period whether it be about the clothing the characters wear to the background setting. There is something magical about Victorian London and it is captured beautifully in
Clockwork Angel
.
Even though I normally despise the love triangle, for some odd reason I was okay with this one. It was about Tessa picking and choosing one guy over another. She cared for both Will and Jem and Will and Jem cared for her as well. But Will and Jem, being
parabatai
, also care deeply for one another as well.
What I love was how Charlotte was a strong woman leading fellow Shadowhunters in a time period where men had the power. Even though some doubted her, she never gave up. She always stood her ground and did what she needed to.
I am sure the rest of the series will be just as good or even better than
Clockwork Angel
.