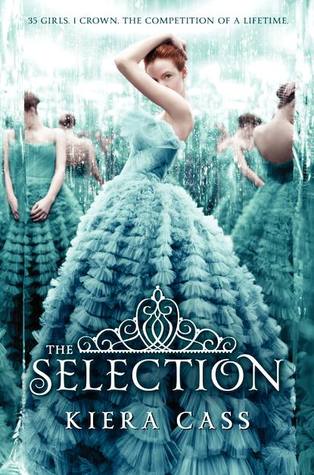 Title:
The Selection
Author:
Kiera Cass
Publisher:
HarperTeen
Publication date:
April 24, 2012
Pages:
336
Source/format:
Borrowed from the library, hardcover
Rating:
☆☆☆☆
Synopsis
(from Goodreads)
:
For thirty-five girls, the Selection is the chance of a lifetime. The opportunity to escape the life laid out for them since birth. To be swept up in a world of glittering gowns and priceless jewels. To live in a palace and compete for the heart of gorgeous Prince Maxon.

But for America Singer, being Selected is a nightmare. It means turning her back on her secret love with Aspen, who is a caste below her. Leaving her home to enter a fierce competition for a crown she doesn't want. Living in a palace that is constantly threatened by violent rebel attacks.

Then America meets Prince Maxon. Gradually, she starts to question all the plans she's made for herself--and realizes that the life she's always dreamed of may not compare to a future she never imagined.
My Thoughts:
America is living in a society where everyone is a number in a cast system. This is a very fast and light Batchelor like dystopian read. America's mother and her sister persuades her to enter her name in a lottery like system in order to be one of 35 girls to have a chance to court the Prince Maxon in order to gain a hand in royal marriage. America is one of the lucky girls to get selected and one of the only Fives to be selected.
However, being selected isn't everything that America hoped for. She must choose to leave her secret lover, Aspen, behind in order to enter the Selection. What I loved was how America's first impressions of Maxon. She wasn't interested in marrying Maxon at all. She, however, forms an alliance with him and they become good friends.
I found it a bit weird how America thinks that Maxon can be a potential lover later on in the book. First, America is is in love with Aspen and doesn't want to be with Maxon. And now she has interests in two guys? America has been on the fence about this and she needs to choose. Love triangles are finnicky and I always find it always being a girl trying to decide between two guys. I hope America ends up making her mind because I feel bad how she is leading both Maxon and Aspen on with her affections for both of them.
What I do like about this book is the friendship America builds with Marlee. Also, America is fierce and is willing to stand for what she believes. She is honest and will not give in just because someone wants her to. She is strong.
I cannot wait to read
the Elite
.