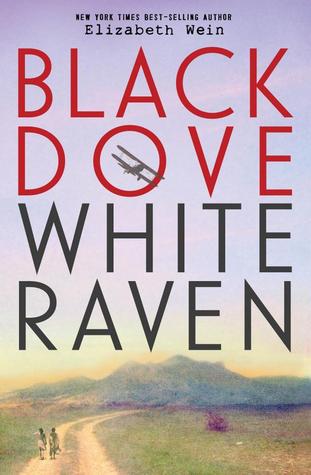 Title:
Black Dove, White Raven
Author:
Elizabeth Wein
Publisher:
Disney-Hyperion
Publication date:
March 31, 2015
Pages:
368
Source/format:
e-ARC from Netgalley
Rating:
☆☆☆
☆
Synopsis (from goodreads.com):

A new historical thriller masterpiece from New York Times bestselling and award-winning author Elizabeth Wein.

Emilia and Teo's lives changed in a fiery, terrifying instant when a bird strike brought down the plane their stunt pilot mothers were flying. Teo's mother died immediately, but Em's survived, determined to raise Teo according to his late mother's wishes-in a place where he won't be discriminated against because of the color of his skin. But in 1930s America, a white woman raising a black adoptive son alongside a white daughter is too often seen as a threat.

Seeking a home where her children won't be held back by ethnicity or gender, Rhoda brings Em and Teo to Ethiopia, and all three fall in love with the beautiful, peaceful country. But that peace is shattered by the threat of war with Italy, and teenage Em and Teo are drawn into the conflict. Will their devotion to their country, its culture and people, and each other be their downfall or their salvation?

In the tradition of her award-winning and bestselling Code Name Verity, Elizabeth Wein brings us another thrilling and deeply affecting novel that explores the bonds of friendship, the resilience of young pilots, and the strength of the human spirit.
My Thoughts:
Delia and Rhoda are known as the Black Dove and White Raven, a female duo of stunt pilots. An aerial performance goes wrong and Delia passes away. Rhoda loses her soulmate and raises Teo, Delia's son, along with her own daughter Em. In the 1930's, it is looked down upon if Whites and Blacks mingle and females have less rights than males. Rhoda seeks a place to raise both children with little discrimination as possible. Rhoda's Quaker parents in Pennsylvania take care of the children when Rhoda tries to mend her broken heart. Before Delia passed away, Rhoda and Delia were saving up money to relocate to Ethiopia to raise their children. Rhoda ultimately relocates to Ethiopia where Teo's father is from because she wanted to fulfill Delia's dream. Rhoda eventually teaches Em and Teo to fly. Teo is a quick learner but Em is a little bit more hesitant. Life is good until the second Italo-Ethiopian War (Second Italo-Abyssinian War) threatens the family of three. Italy swoops in to invade the then independent nation of Ethiopia.
Elizabeth Wein does an excellent job with
Black Dove, White Raven
. Her writing is beautiful and lyrical. I am a big fan of historical fiction and this one did not disappoint. Wein not only created a wonderful story but she also taught me a lot about history. I know very little about Ethiopia so I am glad I learned a lot from reading
Black Dove, White Raven
. This is a good book to incorporate into history or English curriculum if students are studying the 1930's.
The characters are well developed and I love how Wein included information about Delia even after she passes away. Reading about Delia's and Rhoda's relationship is touching. I love how Rhoda's mother describes how Rhoda has lost her soulmate and how a soulmate is "two people who understand each other without talking about it. Two halves of a whole" (ARC, page 21). I totally agree. Soulmates do not have to be married. I appreciate how Em and Teo take on the personas of their mothers.
The narration of book is pretty interesting. Some people love it and some people hate it. I enjoyed the style of it. It gives me a glimpse of what the characters are thinking, the passion they pour into letters and provides me factual data for the logs. I enjoyed watching Teo and Em grow throughout the book. Will their friendship and family loyalties be tested? Will the war separate them? Pick up
Black Dove, White Raven
to find out!