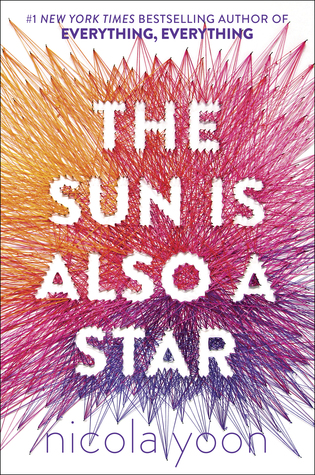 Title:
The Sun is Also a Star
Author:
Nicola Yoon
Publisher:
Delacorte Press
Publication date:
November 1, 2016
Pages:
384
Source/format:
Library//Hardcover
Rating:
☆☆☆
☆
Synopsis (from goodreads.com):

Natasha: I'm a girl who believes in science and facts. Not fate. Not destiny. Or dreams that will never come true. I'm definitely not the kind of girl who meets a cute boy on a crowded New York City street and falls in love with him. Not when my family is twelve hours away from being deported to Jamaica. Falling in love with him won't be my story.

Daniel: I've always been the good son, the good student, living up to my parents' high expectations. Never the poet. Or the dreamer. But when I see her, I forget about all that. Something about Natasha makes me think that fate has something much more extraordinary in store—for both of us.

The Universe: Every moment in our lives has brought us to this single moment. A million futures lie before us. Which one will come true?
M Y T H O U G H T S
The Sun is Also a Star
is a touching novel about a girl named Nastasha Kingsley. Most of her family is undocumented and will get deported to Jamaica that night. Praying someone will help her and her family, she pleads one more time and asks for help from United States Citizenship and Immigration Services (USIS) and a lawyer. However, no avail.
She ends up meeting Daniel Bae, the poet, who is a Korean American who lives in his brother's shadow. His parents have high expectations for him to go to the best school, which to them, is Harvard or at least to go to second best school aka Yale. Natasha and Daniel spend time together asking each other questions, visiting a record store and a coffee shop and try to learn more about each other. Destiny collides and fate is met but what happens when other people are trying to separate you apart?
Nicola Yoon is a master when writing Natasha's and Daniel's voices. They both are symbiotic. Both are destined to meet. The novel is a fact pace read, compressing a day's worth of action and dialogue in under 350 pages. The ending is bittersweet yet it works well.
Most of the chapters are from Natasha's and Daniel's POVs with a smattering of chapters from POVs of other characters close to Natasha and Daniel. It's nice to get insight from secondary characters about backstory but I have to admit it was hard for me to follow the chapters. However, I did like the chapters about the history of things such as the love history or the hair history.
Yoon did an excellent job with weaving many cultures together. I appreciate the diversity within the book. Not only is culture and race included but Yoon includes what the difference is to be a first generation American compared to a second generation American compared to a documented immigrant compared to an undocumented immigrant. I have worked with students that have fallen under all the above and it's great that people will learn the difference and will know the facts before they judge.
The Sun is Also a Star
is a wonderful book about acceptance, tolerance and about finding yourself. This is an emotional read but is a very important one.