Top Ten Tuesday is a weekly meme hosted by
The Broke and the Bookish
. This week's Top Ten Tuesday asks bloggers to blog about 10 books from X genre that they've recently added to their TBR list. I am usually more of a contemporary reader but I do enjoy paranormal and low fantasy out of all the fantasy genres. Occasionally I will read high fantasy. I am very picky about the fantasy titles that I usually read but based on the synopsis, I added quite a few fantasy titles to my TBR list. Hopefully, I'll enjoy most of these titles! I have to admit that at least half of these titles are middle grade and I love middle grade fantasy! The titles are in no particular order.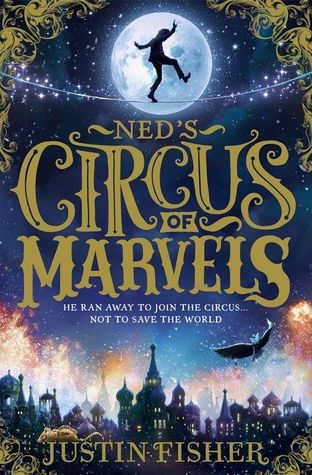 Title:
Ned's Circus of Marvels
Author:
Justin Fisher
Publisher:
HarperCollins Children's Books
Publication date:
June 30, 2016
Pages:
448
Synopsis (from Goodreads):

From exciting debut author, Justin Fisher, comes this rip-roaring, page-turning new magical adventure. Perfect for fans of House of Secrets.

Ned Waddlesworth has always considered his world to be exceptionally ordinary. Until the day he discovers it ISN'T. AT ALL. Because on Ned's thirteenth birthday he discovers that everything magical he's ever read about or imagined is REAL.
And without him, the world will soon be engulfed in monstrous beasts and beings.

So with the help of a robot mouse, a girl witch and a flying circus unlike any other, it's up to Ned to swoop in and save the day!

Roll up, roll up, and prepare to be AMAZED by Ned and the marvellous, magical, monstrous flying circus!
Title:
Aru Shah and the End of Time
Author:
Roshani Chokshi
Publisher:
Rick Riordan Presents
Publication date:
April 2018
Synopsis (from Goodreads):





The main character is 12-year-old Indian-American girl who unwittingly frees a demon intent on awakening the God of Destruction. (As Percy Jackson might say: "Oops.")

The author's agent, Thao Le of Sandra Dijkstra & Associates, calls it "Percy Jackson meets Sailor Moon with a great wealth of wonderful Indian mythology'.
Title:
The Wizards of Once
Author:
Cressida Cowell
Publisher:
Hodder Children's Books
Publication date:
September 19, 2017
Pages:
384
Synopsis (from Goodreads):

From the bestselling author of How to Train Your Dragon comes an exciting high-adventure series - set in an ancient, magical time, full of Wizards, Warriors, Giants and Sprites.

This is the story of a young boy Wizard and a young girl Warrior who have been taught to hate each other like poison; and the thrilling tale of what happens when their two worlds collide.

Perfect for boys and girls who love fantasy adventure ...

Once there was Magic, and the Magic lived in the dark forests.

Wizard boy, Xar, should have come in to his magic by now, but he hasn't, so he wants to find a witch and steal its magic for himself. But if he's got any chance of finding one, he will have to travel into the forbidden Badwoods.

Xar doesn't realise he is about to capture an entirely different kind of enemy. A Warrior girl called Wish.

And inside this book, at this very moment, two worlds collide and the fate of the land is changed forever.

In a whirlwind adventure, Xar and Wish must visit the dungeons at Warrior fort, and face the evil Queen.

But something that has been sleeping for hundreds of years is stirring ...
Title:
By A Charm and A Curse
Author:
Jaime Questell
Publisher:
Entangled Teen
Publication date:
2018
Synopsis (from Goodreads):





Pitched in the vein of Maggie Stiefvater meets Tim Burton, in which a teen girl is entrapped by a cursed carnival when a kiss turns her into a living doll, and must figure out how to break the decades-old curse so she can become human again — without destroying the carnival (and the boy) she's growing to love in the process.
Title:
Ace of Shades
Author:
Amanda Foody
Publisher:
Harlequin Teen
Publication date:
April 2018
Pages:
448
Synopsis (from Goodreads):





Welcome to the City of Sin, where casino families reign, gangs infest the streets…and secrets hide in every shadow.

Enne Salta was raised as a proper young lady, and no lady would willingly visit New Reynes, the so-called City of Sin. But when her mother goes missing, Enne must leave her finishing school—and her reputation—behind to follow her mother's trail to the city where no one survives uncorrupted.

Frightened and alone, her only lead is a name: Levi Glaisyer. Unfortunately, Levi is not the gentleman she expected—he's a street lord and a con man. Levi is also only one payment away from cleaning up a rapidly unraveling investment scam, so he doesn't have time to investigate a woman leading a dangerous double life. Enne's offer of compensation, however, could be the solution to all his problems.

Their search for clues leads them through glamorous casinos, illicit cabarets and into the clutches of a ruthless mafia donna. As Enne unearths an impossible secret about her past, Levi's enemies catch up to them, ensnaring him in a vicious execution game where the players always lose. To save him, Enne will need to surrender herself to the city…

And she'll need to play.
Title:
Wishtree
Author:
Katherine Applegate
Publisher:
Feiwel & Friends
Publication date:
September 26, 2017
Pages:
224
Synopsis (from Goodreads):

Trees can't tell jokes, but they can certainly tell stories. . . .

Red is an oak tree who is many rings old. Red is the neighborhood "wishtree"—people write their wishes on pieces of cloth and tie them to Red's branches. Along with her crow friend Bongo and other animals who seek refuge in Red's hollows, this "wishtree" watches over the neighborhood.

You might say Red has seen it all. Until a new family moves in. Not everyone is welcoming, and Red's experiences as a wishtree are more important than ever.
Title:
Forest Queen
Author:
Betsy Cornwell
Publisher:
Houghton Mifflin Harcourt
Publication date:
2018
Synopsis (from Goodreads):

The Forest Queen is a gender-swapped retelling of the Robin Hood legends set in Esting two hundred years before the events of Mechanica and Venturess. It follows young noblewoman Silviana Loughsley as she founds a haven for the destitute in Woodshire Forest. Mechanica readers may remember Fin and Nick talking about the Forest Queen in one of their secret meetings.
Title:
Whisper in the Stone
Author:
Kamilla Benko
Publisher:
Bloomsbury USA Childrens
Publication date:
February 6, 2018
Pages:
320
Synopsis (from Goodreads):

Claire Martinson still worries about her older sister Sophie, who battled a mysterious illness last year. But things are back to normal as they move into Windermere Manor... until the sisters climb a strange ladder in a fireplace and enter the magical land of Arden.

There, they find a world in turmoil. The four guilds of magic no longer trust each other. The beloved unicorns have gone, and terrible wraiths roam freely. Scared, the girls return home. But when Sophie vanishes, it will take all of Claire's courage to climb back up the ladder, find her sister, and uncover the unicorns' greatest secret.
Title:
The Carnival of Wishes and Dreams
Author:
Jenny Lundquist
Publisher:
Simon & Schuster/ Aladdin
Publication date:
2019
Synopsis (from Goodreads):

Alyson Heller at Aladdin has bought world rights to Jenny Lundquist's coming-of-age middle grade novel, The Carnival of Wishes & Dreams. Pitched as The Night Circus for younger readers, the book follows three former friends in a struggling factory town, who each receive an anonymous note to meet at the town carnival's Ferris wheel, where they discover new truths about each other. Publication is set for spring 2019; Kerry Sparks at Levine Greenberg Rostan was the agent.
Title:
Whichwood
Author:
Tahereh Mafi
Publisher:
Dutton Books for Young Readers
Publication date:
November 14, 2017
Pages:
368
Synopsis (from Goodreads):

A new adventure about a girl who is fated to wash the bodies of the dead in this companion to Furthermore.

Our story begins on a frosty night…

Laylee can barely remember the happier times before her beloved mother died. Before her father, driven by grief, lost his wits (and his way). Before she was left as the sole remaining mordeshoor in the village of Whichwood, destined to spend her days washing the bodies of the dead and preparing their souls for the afterlife. It's become easy to forget and easier still to ignore the way her hands are stiffening and turning silver, just like her hair, and her own ever-increasing loneliness and fear.

But soon, a pair of familiar strangers appears, and Laylee's world is turned upside down as she rediscovers color, magic, and the healing power of friendship.
What are some fantasy titles that are on your TBR list? Do we share any of the same?