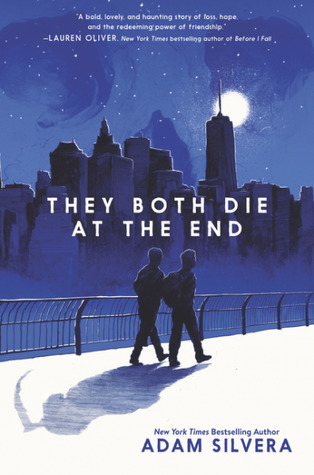 Title:
They Both Die at the End
Author:
Adam Silvera
Publisher:
Harper Teen
Publication date:
September 5, 2017
Pages:
384
Source/format:
Publisher//ARC
Rating:
☆☆☆
☆
Synopsis (from goodreads.com):

New York Times bestselling author Adam Silvera reminds us that there's no life without death and no love without loss in this devastating yet uplifting story about two people whose lives change over the course of one unforgettable day.

On September 5, a little after midnight, Death-Cast calls Mateo Torrez and Rufus Emeterio to give them some bad news: They're going to die today. Mateo and Rufus are total strangers, but, for different reasons, they're both looking to make a new friend on their End Day. The good news: There's an app for that. It's called the Last Friend, and through it, Rufus and Mateo are about to meet up for one last great adventure—to live a lifetime in a single day.

In the tradition of Before I Fall and If I Stay, They Both Die at the End is a tour de force from acclaimed author Adam Silvera, whose debut, More Happy Than Not, the New York Times called "profound."
M Y T H O U G H T S
"My afterlife is like a home theater where you can re-watch your entire life from start to finish."
- ARC of
They Both Die at the End
I had to admit that I couldn't get into Adam Silvera's first two books but I was hooked when I read page one of
They Both Die at the End
. The concept of someone getting a call from Death-Cast stating that they will die sometime within 24 hours is pretty surreal. You don't know how you will die and you don't know what algorithm Death-Cast uses to determine everyone's End Day.
Mateo Torrez and Rufus Emeterio both get calls from Death-Cast on the same exact a day. Both have complex lives. Mateo's mom died during childbirth and his dad has been in a coma for a couple of weeks. Rufus is in the foster care system after his parents and sister died. Through an app called The Last Friend, Mateo and Rufus become friends.
They Both Die at the End
is split into four sections and alternates chapters between Mateo and Rufus with the exact time logging of their thoughts like they are writing in a journal. There are some chapters in secondary characters' voices as well. Silvera captures the grittiness of Mateo's and Rufus's lives. He tells it how it is with sincerity and doesn't sugarcoat anything about their past.
Silvera did an excellent job interweaving the lives of Mateo and Rufus. Both are different and unique in their own ways. I found the concept of Death-Cast intriguing and how a span of a day would pan out in almost 400 pages of a novel. It works though! Silvera made it work! Despite the many pages of the novel, this is a quick read.
The dialogue flows smoothly and the reader empathizes with the main characters. That ending is intense! The emotion roller coaster peaks and descends and so many thoughts are looming. It really make you cherish every moment of your life. Silvera captures moments of Mateo's and Rufus's lives through instagram in full color compared to Rufus's usual black and white spectrum. They truly lived their End Day to its fullest.
They Both Die at the End
is about loss, hope, friendship and what it means to live your life to its fullest. I highly recommend this novel to someone looking at for a book that is honest and those looking for a book that borders genres.