Elizabeth from
Tea and A Tantrum
, Marci from
The Plot Bunny
and I are big fans of Kerri Maniscalco. We started the Sisterhood of the Traveling ARC with Kerri's debut novel,
Stalking Jack the Ripper
. You can see the first post
here
. It was only fitting to also share our thoughts about the sequel,
Hunting Prince Dracula
. Not only is Kerri a fantastic storyteller, but she is also created a series where mystery and horror collide.
We love promoting books especially for authors that we love. Pre-ordering books is very important to the sales and how well the author does in the long run. High pre-order numbers can help the author get another print run for their book. Help support authors by spreading the word about their titles. Brownie points goes to readers who pre-order books or purchase finished copies even after they read an ARC.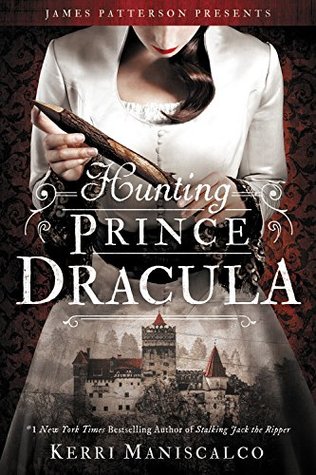 Title:
Hunting Prince Dracula
Author:
Kerri Maniscalco
Publisher:
Jimmy Patterson
Publication date:
September 19, 2017
Pages:
448
Source/format:
Publisher/ARC
Rating:
☆☆☆
☆
☆
Synopsis (from goodreads.com):

In this hotly anticipated sequel to the haunting #1 bestseller Stalking Jack the Ripper, bizarre murders are discovered in the castle of Prince Vlad the Impaler, otherwise known as Dracula. Could it be a copycat killer...or has the depraved prince been brought back to life?

Following the grief and horror of her discovery of Jack the Ripper's true identity, Audrey Rose Wadsworth has no choice but to flee London and its memories. Together with the arrogant yet charming Thomas Cresswell, she journeys to the dark heart of Romania, home to one of Europe's best schools of forensic medicine...and to another notorious killer, Vlad the Impaler, whose thirst for blood became legend.

But her life's dream is soon tainted by blood-soaked discoveries in the halls of the school's forbidding castle, and Audrey Rose is compelled to investigate the strangely familiar murders. What she finds brings all her terrifying fears to life once again.
M Y T H O U G H T S
Reading
Hunting Prince Dracula
is like jumping on a bike again. Readers are immersed into the same world with Audrey Rose Wadsworth and Thomas Cresswell shortly after where
Stalking Jack the Ripper
left off. After the uncovering the true identity of Jack the Ripper back in London, Audrey and Thomas venture out to Romania to pursue an education in forensic medicine while hunting for Dracula.
From the first page, Kerri Maniscalco grabs the reader's attention with striking imagery. Carefully chosen words are used in descriptions of Audrey Rose's surroundings. Kerri Maniscalco's rich yet engrossing, atmospheric descriptions make readers crave more. Every detail is exquisite. In the second novel in the Stalking Jack the Ripper trilogy, readers join Audrey Rose Wadsworth and Thomas Cresswell while they battle out for two out of the nine spots at the Academy of Forensic Medicine and Science.
Readers are introduced to a whole new set of characters in Romania. Audrey Rose meets a few females to keep her company such as Anastasia, Ileana and Daciana. Who knew Thomas's sister, Daciana, is just as charming as he is.
Chockful of mysterious and thrilling encounters,
Hunting Prince Dracula
is just as intriguing as its predecessor. It's cleverly executed and I find myself loving this installment even more than
Stalking Jack the Ripper
! Kerri keeps readers on their toes the whole way through with twists and turns. The whole entire time when I was reading the book, I kept changing my mind about who the murderer is. Macabre and cadavers are taken to a whole new level.
Wadsworth and Cresswell are the quintessential duo. The banter between Audrey and Thomas is still there but their relationship continues to grow into something more than a friendship. The banter between them is perfect and they work very well together as partners in crime. There are times when Audrey is uncertain if Thomas would become distant but their loyalties lie within their strong friendship. I cannot wait to see them undercover mysteries in America.
I highly recommend
Hunting Prince Dracula
for those who enjoyed reading
Stalking Jack the Ripper
and for those who love thrillers, mysteries and the paranormal.
If you want to follow the Sisterhood of the Traveling ARC feature on social media, please check out the hashtag, #TravelingARC3, for more reviews and photos.