Elizabeth from Book YAbber
,
Marci from The Plot Bunny
and I are finally announcing our latest feature called the Sisterhood of the Traveling ARC! Because the three of us love reading ARCs, we decided on sharing our ARCs with one another, not only to allow each of us to read a new title, but to promote how obtaining an ARC is not about trying to hoard an ARC for yourself.
ARCs are meant for promotional reasons. We figured that if we can share one ARC amongst the three of us, it means that the publisher is getting three times as much promotion from one ARC. Each of us will be doing a post on the title we decide to share. For our first ARC, we decided on
Stalking Jack the Ripper by Kerri Maniscalco
. Not only do
all three of us love the book
but we are excited that Maniscalco is a debut author.
Spreading the word about a debut author is so important. Not only are most readers not aware of debut authors but sales is super important for upcoming books. If the debut book doesn't sell well, the author's chances of selling another book for publication is lower. Help support authors by spreading the word. Brownie points goes to readers who pre-order books or purchase finished copies.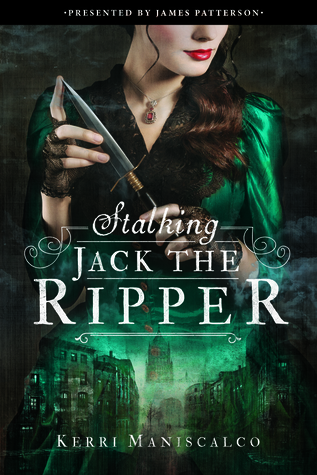 Title:
Stalking Jack the Ripper
Author:
Kerri Maniscalco
Publisher:
Jimmy Patterson
Publication date:
September 20, 2016
Pages:
336
Source/format:
ARC from Marci from
The Plot Bunny
Rating:
☆☆☆
☆
☆
Synopsis (from goodreads.com):

Presented by James Patterson's new children's imprint, this deliciously creepy horror novel has a storyline inspired by the Ripper murders and an unexpected, blood-chilling conclusion...

Seventeen-year-old Audrey Rose Wadsworth was born a lord's daughter, with a life of wealth and privilege stretched out before her. But between the social teas and silk dress fittings, she leads a forbidden secret life.

Against her stern father's wishes and society's expectations, Audrey often slips away to her uncle's laboratory to study the gruesome practice of forensic medicine. When her work on a string of savagely killed corpses drags Audrey into the investigation of a serial murderer, her search for answers brings her close to her own sheltered world.

The story's shocking twists and turns, augmented with real, sinister period photos, will make this dazzling debut from author Kerri Maniscalco impossible to forget.
M Y T H O U G H T S
Stalking Jack the Ripper
fuses together gore and a mystery from the late 19th century Victorian era. Kerri Maniscalco does a fabulous job creating a compelling, atmospheric novel with a strong unconventional female lead. Instead of being molded into a docile young lady trying to attract a man to be betrothed to, Audrey Rose Wadsworth prefers to dabble with forensic sciences and cadavers. Her skills with embroidery transfers to the stitching of human flesh. Although she loves the finer delicate things in life, her passion is learn everything there is within Uncle Jonathan's laboratory. Audrey is the quintessential renaissance lady!
Audrey Rose is lucky to have someone in her life that will allow her to gain knowledge about forensic medicine. Not only does Uncle Jonathan allow her to be an apprentice but he encourages her to attend his surgical classes, dressed up as a male of course. Not many people in her society would approve of such an interest. Even her brother, Nathaniel, and her acquaintance, Thomas Cresswell, help her conceal her secret outings.
While the rest of London's East End is paranoid about the recent attacks, Audrey Rose is intrigued about the serial killer investigations. She spends more time with Uncle's other apprentice, Thomas, while they try to piece together clues. I found the banter between Audrey Rose and Thomas amusing. Maniscalco's witty dialogue is on point! I devoured
Stalking Jack the Ripper
! The fusion of historical fiction and mystery thriller makes it the perfect read for curious readers. It will keep you guessing about who Jack really is.
Stalking Jack the Ripper
is a suspenseful debut and will keep you guessing throughout the whole novel about who the murderer is. Join Audrey Rose as she unfolds the mystery.
Stalking Jack the Ripper
is the first book in the trilogy and Maniscalco will lure you in with the very first page. It's macabre at its finest! Add this gripping historical fiction thriller to your TBR list!
If you want to follow the Sisterhood of the Traveling ARC feature on social media, please check out the hashtag, #TravelingARC3, for more reviews and photos.