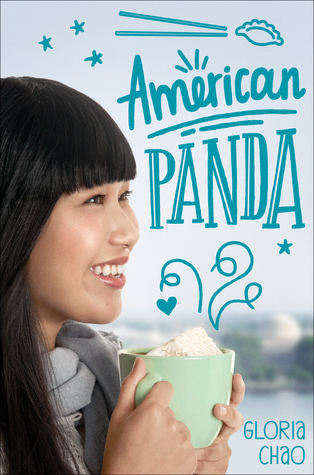 Title:
American Panda
Author:
Gloria Chao
Publisher:
Simon Pulse
Publication date:
February 6, 2018
Pages:
320
Source/format:
Publisher//ARC
Rating:
☆☆☆
☆
☆
Synopsis (from goodreads.com):

An incisive, laugh-out-loud contemporary debut about a Taiwanese-American teen whose parents want her to be a doctor and marry a Taiwanese Ivy Leaguer despite her squeamishness with germs and crush on a Japanese classmate.

At seventeen, Mei should be in high school, but skipping fourth grade was part of her parents' master plan. Now a freshman at MIT, she is on track to fulfill the rest of this predetermined future: become a doctor, marry a preapproved Taiwanese Ivy Leaguer, produce a litter of babies.

With everything her parents have sacrificed to make her cushy life a reality, Mei can't bring herself to tell them the truth--that she (1) hates germs, (2) falls asleep in biology lectures, and (3) has a crush on her classmate Darren Takahashi, who is decidedly not Taiwanese.

But when Mei reconnects with her brother, Xing, who is estranged from the family for dating the wrong woman, Mei starts to wonder if all the secrets are truly worth it. Can she find a way to be herself, whoever that is, before her web of lies unravels?
M Y T H O U G H T S
Mei Lu is a freshman at MIT and she has a crush on Darren Takahashi. Because of her parents strict rules for Mei, they disapprove Darren. Her parents want her to graduate MIT and go to medical school to become a doctor. The thing is, Mei has germophobia. In the meantime, she is expected to meet a MIT Taiwanese guy and eventually get married and have kids with the parent approved guy. Mei wants to break way from her stereotypical family and do what makes her happy.
I am glad Mei was able to find her way to express herself through dance. Even though her parents took away dance classes after Mei got accepted to MIT, Mei was still able to teach dance to Chinese adopted children. Even though I haven't been raised by stereotypical Chinese parents, I can connect with Mei and dance. When my parents presented me the choice of taking Chinese language classes or Chinese dance classes, I opted to take Chinese dance classes. I was lucky to have options in my life and I wasn't forced into anything. However, my grandmother always hoped that I would attend MIT or Harvard to become a doctor or a lawyer. I hope other readers will related to Mei in
American Panda
as well. How does one live a life balancing cultural and traditional expectations with American values?
I am ecstatic Mei was able to reconnect with her other brother, Xing, and realizes that she can pave her own path in life. I am surprised how overbearing her parents are, especially her mother. Mei's mom would call her day and night. Her parents meet her at a Taiwanese restaurant to check in with her every week. No wonder Mei wants to break away from her parents and wants to call the shots to her own life.
Mei is a likable character. She is funny, sincere and thoughtful. Gloria Chao penned a honest journey through the eyes of Mei and how Mei manages to delve into her passions and her happiness. Darren cares about what Mei thinks and how she feels about things. Even though Mei's parents want a certain life for her, Darren encourages Mei to follow what her heart says. And she finally opens up about her desires to her parents. However, only one parent gives in to her passion and honors her wishes.
American Panda
is a delightful coming-of-age book; it's about finding yourself. Through cultural values and identity, family expectations and living life to the fullest, Mei is able to follow her dreams even though she has to jump over many hurdles in order to succeed. Mei defines what it means to reach an American Dream. If you enjoyed reading
Starfish
and/or
When Dimple Met Rishi,
you will love
American Panda
!