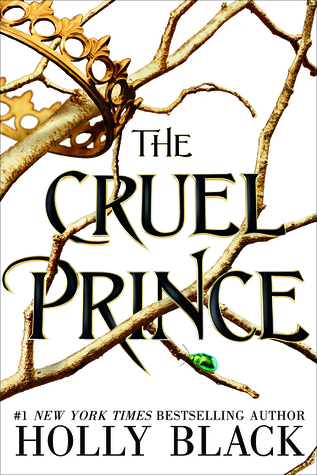 Title:
The Cruel Prince
Author:
Holly Black
Publisher:
Little, Brown Books for Young Readers
Publication date:
January 2, 2018
Pages:
384
Source/format:
From
Nicole of The BookBandit Blog
// ARC
Rating:
☆☆☆
☆
Synopsis (from goodreads.com):

Of course I want to be like them. They're beautiful as blades forged in some divine fire. They will live forever.

And Cardan is even more beautiful than the rest. I hate him more than all the others. I hate him so much that sometimes when I look at him, I can hardly breathe.

Jude was seven years old when her parents were murdered and she and her two sisters were stolen away to live in the treacherous High Court of Faerie. Ten years later, Jude wants nothing more than to belong there, despite her mortality. But many of the fey despise humans. Especially Prince Cardan, the youngest and wickedest son of the High King.

To win a place at the Court, she must defy him–and face the consequences.

In doing so, she becomes embroiled in palace intrigues and deceptions, discovering her own capacity for bloodshed. But as civil war threatens to drown the Courts of Faerie in violence, Jude will need to risk her life in a dangerous alliance to save her sisters, and Faerie itself.
M Y T H O U G H T S
Jude lives with her parents and her twin sister, Taryn, and her older sister, Vivienne until that one day when a man came to their house. In a swift minute, Jude and her sisters become parentless and forced to leave what they called home.
What Jude doesn't know is that Vivienne has a different father than her and Taryn. In fact, Vivienne's father is Madoc the Redcap. Off the children go to live in the faerie world with Madoc. They are raised among the faerie royal court and they learn more abut the faerie customs They are introduced to the important faeries of the land. One of them is a cruel prince named Cardan.
Holly Black starts off
The Cruel Prince
strong. Usually I have a hard time getting into her faerie books but this time she hooked me from the first page. She describes characters and scenery with so much detail.You can feel the emotions so well! Holly's beautiful writing is exuberant!
The writing builds up slowly and it's worth the wait to find out what's going to happen next. I love Jude! You can really relate to her. She is a flawed character wanting to belong among the faeries. Unlike Vivienne, Jude enjoys living in the faerie land. It was a little bit hard for me to remember the names of all the faeries but it didn't take away from the plot of the book.
With faerie politics, manipulation and a twisty plot,
The Cruel Prince
is a novel for those who love to read about faeries but also for those who love a good fantasy read. There is romance, action, mystery and a bit of darkness in this novel which makes it an intoxicating read.