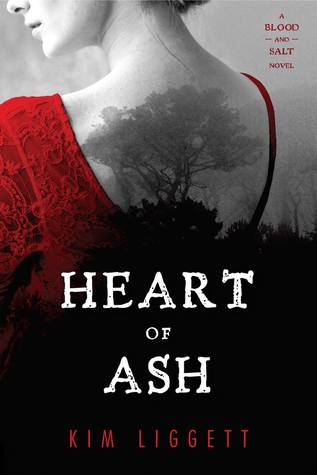 Title:
Heart of Ash
Author:
Kim Liggett
Publisher:
G.P. Putnam's Sons Books for Young Readers
Publication date:
February
20, 2018
Pages:
288
Source/format:
Hardcover from publisher
Rating:
☆☆☆
☆
☆
Synopsis (from goodreads.com): Ash may have escaped the immortal-worshipping cult that killed her mother, but the love of her life is still under its thrall. Dane has been possessed by his diabolical ancestor Coronado, a man who's fabulously wealthy, dripping with fame, and the leader of Europe's most dangerous immortal network. Dane begs Ash to join him at Coronado's castle in Spain, and swears that his blood bond with Ash is stronger than Coronado's hold over him. Ash is desperate to help Dane vanquish Coronado without having to sacrifice herself to the darkness. But when you're all in, blood and salt, the only way to hold on to the light might just be by setting everything on fire.
M Y T H O U G H T S

"We're like a dissonant chord in the finale of Beethoven's Ninth Symphony, begging for resolution. As long as we're apart, there will never be peace in the world...harmony." - pg 41 of Heart of Ash

Ash Larkin barely survived a year ago when she was caught in the crossroads of a cult's curse and tradition. Through her mother's sacrifice, she lived and evaded Katia's wrath but is is now an immortal. But because without darkness there can be no light, Ash's twin brother's blood can kill while her's can heal. In a star-crossed lover's story, she is drawn to Dane but Dane is possessed by the evil Coronado. Ash needs to find her brother Rhys before he is found by the Arcanum Council.

Kim Liggett starts the novel off strong with her vivid descriptions. Although readers are transported back to New York and Spain instead of Kansas, Liggett draws in the reader with intrigue. Ash tries to see the good in Dane and tries to believe that he is ultimately trying to fight off Coronado's grasp over him. However, Dane connections is the closest she has to finding Rhys.

Beth and Timmons have been very supportive of Ash during good and tough times. Timmons is always helpful and promises to take care of Ash and Rhys. Beth is Ash's friend who will do anything to be there for Ash. Dane seems like he wants to help Ash but Ash is suspicious of his true intentions.

Heart of Ash is more of a mystery Ash and Dane are trying to investigate. While trying to win over a strong group of immortals and convincing them they are Katia and Coronado, Ash and Dane need to be careful since there might be a traitor amongst them trying to get them killed.

Heart of Ash is everything I want to see in an atmospheric, twisty, paranormal plot line. With its compelling words, the tinge of darkness and the banter between Ash and Dane, it keeps you wanting more. I highly suggest this novel as well as the predecessor, Blood and Salt, to readers who love The Vampire Diaries TV series as well at Kerri Maniscalco's Stalking Jack the Ripper series.