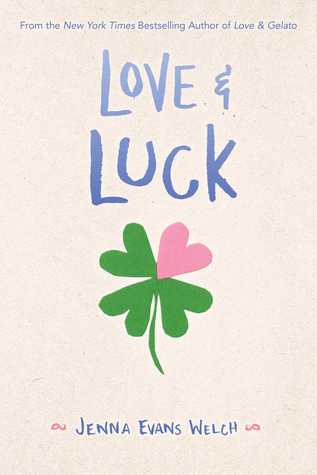 Title:
Love & Luck
Author:
Jenna Evans Welch
Publisher:
Simon Pulse
Publication date:
May 8, 2018
Pages:
320
Source/format:
e-ARC from Publisher
Rating:
☆☆☆
☆
Synopsis (from goodreads.com):

Addie is visiting Ireland for her aunt's over-the-top destination wedding, and hoping she can stop thinking about the one horrible thing she did that left her miserable and heartbroken—and threatens her future. But her brother, Ian, isn't about to let her forget, and his constant needling leads to arguments and even a fistfight between the two once inseparable siblings. Miserable, Addie can't wait to visit her friend in Italy and leave her brother—and her problems—behind.

So when Addie discovers an unusual guidebook, Ireland for the Heartbroken, hidden in the dusty shelves of the hotel library, she's able to finally escape her anxious mind and Ian's criticism.

And then their travel plans change. Suddenly Addie finds herself on a whirlwind tour of the Emerald Isle, trapped in the world's smallest vehicle with Ian and his admittedly cute, Irish-accented friend Rowan. As the trio journeys over breathtaking green hills, past countless castles, and through a number of fairy-tale forests, Addie hopes her guidebook will heal not only her broken heart, but also her shattered relationship with her brother.

That is if they don't get completely lost along the way.
M Y T H O U G H T S
Addie Bennett is in Ireland for her aunt's wedding. Right after the wedding, she gets to fly out to Florence, Italy to meet up with her best friend Lina. However, there is a catch. Since Addie was fighting with her brother, Ian, her mother decides that having both siblings fly out to Florence would be a good way to for them to bond. If either of them causes a ruckus, they are both kicked off their sports teams. However, Ian has other plans.
I was super excited that Jenna Evans Welch transports her readers to another country and even ties in characters from her debut novel, Love & Gelato, with Love & Luck. With the introduction of Addie and Addie's mother and brothers, readers also meet Ian's Irish friend, Rowan, who is equally as charming as he is smart. Not only did he figure out how to resolve a family argument between Ian and Addie, but Rowan and Addie eventually become good friends. Addie's first words to Rowan are "Who are you?" in a demanding voice and sees Rowan as a nuisance at first. She warms up to him as the novel progresses.

One of my favorite characters is Ian. Even though he is a football player who is scouted out for a scholarship to attend Washington State University, Ian's passions lies elsewhere. Ian has his own blog called My Lexicon and he is a teen music online journalist. He has a pretty good following online and that's how Rowan and Ian met. Rowan has been following Ian's articles for sometime and decided to contact him. Ian doesn't care too much about Washington State because he is working on polishing up his portfolio for a career in journalism. This is Ian's secret that he has been hiding from his family. However, Addie also has a secret she has been hiding from her family and it has to do with Cubby Jones. Throughout the novel, Addie utilizes Ireland for the Heartbroken to get over heartbreak while she travels throughout Ireland.

Welch is able to flesh out a lot about characters' pasts beyond the main character. It adds substance to the plot and characterization to understand what these characters have been through. What are their struggles? How did they overcome them? What are they trying to achieve now? What are there goals and what are their pursuits to their own happiness? It helps readers figure out why characters say the things they say and do the things they do.

When you first read Love & Luck, you think this is just Addie's story but it's so much more than that. I see it more like Ian's story and how Addie and Rowan add to his journey of following a band's footprints from their early days to their days of their final show. It's also a story about how Addie needs to figure out what she wants from life. Addie actually has a passion in auto mechanics but she only sees it as a hobby. Both Addie and Ian strengthen their sibling bond with this journey throughout Ireland. This novel contains ultimate coming-of-age stories about Addie and Ian.

One thing that bothered me about the novel was how Addie claims that the only way that she will be able to attend a good college is through soccer. Although I don't want to see teens think like this, it does happen. I hope that Addie didn't see soccer as her only way to a good college. Also, what is defined as a "good" college? Everyone's definition of "good" varies.

Love & Luck is wanderlust at its very best, tracing steps to a music festival in Ireland along sibling bonding and exploring Ireland with a guidebook to ease heartache. It's the perfect summer read where time slows down and people dive into new experiences. I highly recommend Love & Luck for readers who love traveling, music and coming-of-age novels. Definitely read Love & Gelato if you haven't but it's not a required to read Love & Gelato before Love & Luck.