Top Ten Tuesday is a weekly meme hosted by
The Broke and the Bookish
and the meme moved to
That Artsy Reader Girl
in January of 2018. This week's Top Ten Tuesday asks bloggers to list their top ten books with their favorite color on the cover. My favorite color is teal and surprisingly there are a good amount of books that have teal on the cover. The following books are in no particular order. So I might have added more than ten books here.
1.
Isla and the Happily Ever After by Stephanie Perkins
is the last book in the Anna and the French Kiss companion trilogy. Not only do readers experience Paris, New York City and Barcelona, but they get to read about Isla and Josh! There are also cameos of characters from
Anna and the French Kiss
and
Lola and the Boy Next Door.
2.
Stardust by Neil Gaiman
is a little bit different from the film but it's very good. Tristran Thorn has lost his heart to the beautiful Victoria Forester and he vows to retrieve her a falling star. He lives in the tiny town wall and ends up going over the wall into a world he has never imagined.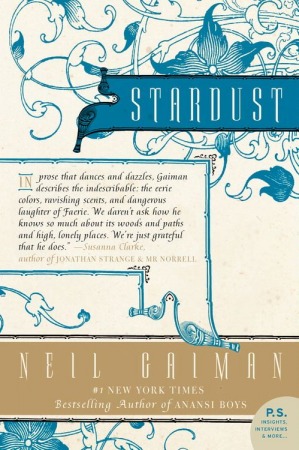 3.
Wintergirls by Laurie Halse Anderson
may be hard for some people to read since it deals with eating disorders and how one girl lost her life. Self-image is highly prevalent in this chilling novel.
4.
P.S. I Still Love You by Jenny Han
may only have some teal for the text but I still counted the novel in this week's TTT because it's a fantastic book! Not only do root for JAM but this novel in particular is very nostalgic for me with the game of Assassins. Plus, I love this contemporary series!
5.
Fangirl by Rainbow Rowell
might lean toward more mint green than teal but I'll add it to the list anyways because this is one of my favorite books of all time. If you love cute contemporaries, fandom and fan fiction, this is definitely a book to pick up! The Simon Snow fandom is very similar to Harry Potter. Also, there is a cute romance in the novel. Cath and Levi, forever!
6.
Eliza and Her Monsters by Francesca Zappia
is also another fandom based book but it's geared toward a webcomic,
Monstrous Sea
, that Eliza creates under an anonymous name. She happens to meet one of the webcomic's biggest fans and he attends her high school.
7.
Feed by M.T. Anderson
is a sci-fi novel that I read back in 2008ish in my Literature for Young Adults college class. I love reading about dystopian and consumerism during that time because I was a Communications-Advertising major and enjoyed reading books about technology and how people are influenced by the things they read, hear and see.
8.
Lost in Thought by Cara Bertrand
is the first book in the Sentenia series. If you love reading about boarding schools and the paranormal, this book is for you! I also loved the interactions Lainey and Carter have within this novel.
9.
Little Elliot, Big City by Mike Curato
is the second installment in the Little Elliot picture book series. I am a huge fan of Curato's books and artwork. Not only is the Little Elliot books timeless but the adventures Little Elliot goes on with mouse is fun to read about. This time, Little Elliot and Mouse need a break from the big city and decide to venture to the countryside to relax with some farm animals.
10.
As I Descended by Robin Talley
is a modern paranormal retelling of Macbeth. Located on a creepy plantation, Acheron Academy is an elite boarding school located in Virginia where all the students have their eyes on a prestigious scholarship. However, how far will people go to obtain that scholarship?
11.
Love & Gelato by Jenna Evans Welch
is such a cute contemporary about Lina who travels to Florence, Italy after the death of her mother to live with her father. Also, Lina meets Ren! Immerse yourself in Tuscany! This novel actually brought back memories from when I visited Florence back in 2009.
12.
North of Happy by Adi Alsaid
is a coming-of-age novel about Carlos who relocates from Mexico to Washington to pursue his dream to become a chef. The novel is chockfull of recipes and readers find out more about Felix, Carlos's brother.
13.
Monstrous by MarcyKate Connolly
is a dark middle grade novel about Kymera who tries to save girls of Bryre that an evil wizard has been kidnapping. However, her father tells her that she must not be seen by humans. This whimsical novel weaves in self-acceptance and how appearances are not everything.
What is your favorite color and what books do you have on your list? Do you have any book recommendations with teal as part of the cover art?