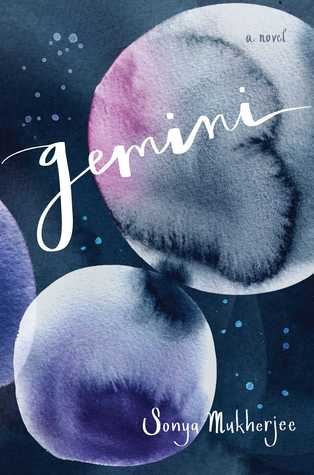 Title:
Gemini
Author:
Sonya Mukherjee
Publisher:
Simon & Schuster Books for Young Readers
Publication date:
July 26, 2016
Pages:
336
Source/format:
e-ARC from publisher on Netgalley
Rating:
☆☆☆
☆
Synopsis (from goodreads.com):

In a powerful and daring debut novel, Sonya Mukherjee shares the story of sisters Clara and Hailey, conjoined twins who are learning what it means to be truly extraordinary.

Seventeen-year-old conjoined twins Clara and Hailey have lived in the same small town their entire lives—no one stares at them anymore. But there are cracks in their quiet existence, and they're slowly becoming more apparent. Clara and Hailey are at a crossroads. Clara wants to stay close to home, avoid all attention, and study the night sky. Hailey wants to travel the world, learn from great artists, and dance with mysterious boys. As high school graduation approaches, each twin must untangle her dreams from her sister's, and figure out what it means to be her own person.

Told in alternating perspectives, this unconventional coming-of-age tale shows how dreams can break your heart—but the love between sisters can mend it.
M Y T H O U G H T S
Clara and Hailey are conjoined twins and are trying to figure out what they want in life. Clara loves science and she is the level headed twin while Hailey is the artistic, free spirited pink-haired twin. A new guy, Max, is starting at the twins' small high school in Bear Pass, California and all the girls are after him.
Sonya Mukherjee's debut novel is wonderful. The alternating POVs of the twins lets the reader understand what is going through the minds of each twin. I have never read a novel about conjoined twins and I am glad I had the chance to read
Gemini
. Although the twins have to face challenges that most people don't face, they are your average teenage girls. They are high school seniors trying to maintain good grades, crushing over guys and getting ready for college.
Although their parents want them to go to Sutter College after high school, Clara and Hailey want something more. Clara loves astronomy and would love to study at another level in space. Hailey wants to travel to as many places as she can. Mukherjee provides a platform for readers to join Clara and Hailey on an emotional journey.
Mukherjee's writing is addicting.
Gemini
is an irresistible novel for readers. It's a heartfelt novel like no other.