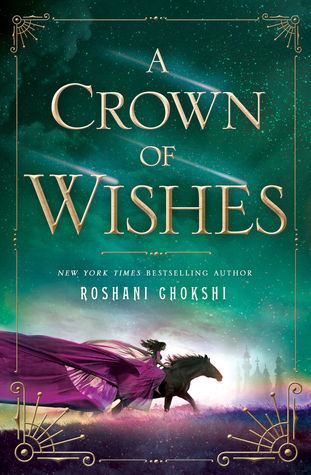 Title:
A Crown of Wishes
Author:
Roshani Chokshi
Publisher:
St. Martin's Griffin
Publication date:
March
28, 2017
Pages:
352
Source/format:
e-ARC from publisher
Rating:
☆☆☆
☆
1/2
Synopsis (from goodreads.com):

Gauri, the princess of Bharata, has been taken as a prisoner of war by her kingdom's enemies. Faced with a future of exile and scorn, Gauri has nothing left to lose. Hope unexpectedly comes in the form of Vikram, the cunning prince of a neighboring land and her sworn enemy kingdom. Unsatisfied with becoming a mere puppet king, Vikram offers Gauri a chance to win back her kingdom in exchange for her battle prowess. Together, they'll have to set aside their differences and team up to win the Tournament of Wishes—a competition held in a mythical city where the Lord of Wealth promises a wish to the victor.

Reaching the tournament is just the beginning. Once they arrive, danger takes on new shapes: poisonous courtesans and mischievous story birds, a feast of fears and twisted fairy revels.

Every which way they turn new trials will test their wit and strength. But what Gauri and Vikram will soon discover is that there's nothing more dangerous than what they most desire.
M Y T H O U G H T S
Roshani Choksi does it again! With her storytelling prose, she takes readers back to the wonderful world of the Night Bazaar while introducing to new lands. Although
A Crown of Wishes
is about Maya's sister, Gauri, this companion novel to
The Star-Touched Queen
is equally as beautifully written with its evocative description as the first. Again, Hindi and Indian folklore is woven into
A Crown of Wishes
, making this novel unique and diverse. Choski's descriptions evoke enchanting and vivid imagery. However,
A Crown of Wishes
shows more character development and the plot is more complex with new worlds to encounter.
Gauri, the Jewel of Bharata, is a strong warrior woman trying to help out her country during a war even though her brother betrays her. Two royalty rivals intertwine their lives together to win a wish by beating tournament hosted by Kubera, The Lord of Wealth and Treasures. Through a game of wits and riddles, readers are invited to lavish tournament where those who possess the invitational ruby are allowed entries to the tournament, however, the ruby never promises exits.
Vikram, the Fox Prince, is Gauri's Yang to her Yin. The banter between Gauri and Vikram is perfect! Choksi differentiates the worlds of Bharata, Ujijain and Alaka well. New characters, a tournament and new adventure are introduced in this plot driven novel. Seeing the novel unfold with Gauri and Vikram is exhilarating!
A Crown of Wishes
is a breathtaking and adventurous novel for all the fantasy fans out there. If you've read
The Star-Touched Queen
,
Caraval
and/or
The Night Circus
, you will love
A Crown of Wishes
.