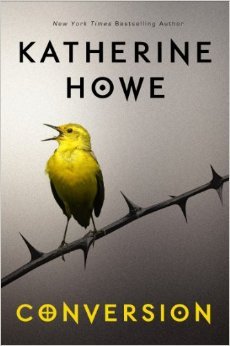 Title:
Conversion
Author:
Katherine Howe
Publisher:
Putnam Juvenile
Publication date:
July 1, 2014
Pages:
402
Source/format:
Purchased, hardcover
Rating:
☆☆☆☆
Synopsis
(from Goodreads)
:
From the New York Times bestselling author of The Physick Book of Deliverance Dane comes a chilling mystery—Prep meets The Crucible.
It's senior year at St. Joan's Academy, and school is a pressure cooker. College applications, the battle for valedictorian, deciphering boys' texts: Through it all, Colleen Rowley and her friends are expected to keep it together. Until they can't.

First it's the school's queen bee, Clara Rutherford, who suddenly falls into uncontrollable tics in the middle of class. Her mystery illness quickly spreads to her closest clique of friends, then more students and symptoms follow: seizures, hair loss, violent coughing fits. St. Joan's buzzes with rumor; rumor blossoms into full-blown panic.

Soon the media descends on Danvers, Massachusetts, as everyone scrambles to find something, or someone, to blame. Pollution? Stress? Or are the girls faking? Only Colleen—who's been reading The Crucible for extra credit—comes to realize what nobody else has: Danvers was once Salem Village, where another group of girls suffered from a similarly bizarre epidemic three centuries ago . . .

Inspired by true events—from seventeenth-century colonial life to the halls of a modern-day high school—Conversion casts a spell. With her signature wit and passion, New York Times bestselling author Katherine Howe delivers an exciting and suspenseful novel, a chilling mystery that raises the question, what's really happening to the girls at St. Joan's
.
My Thoughts:
I loved reading Conversion, especially since I live in the North Shore of Massachusetts and know a lot of the places that are mentioned in the book. I loved how each chapter is narrated either by Colleen Rowley in present day Danvers or by Ann Putnam in Salem Village. Even though the stories between the girls are quite different, they do sort of mesh together at the end of the book. I liked how there is a little bit of romance (but not too much), a little bit of gossip and a little bit of mystery. Katherine Howe's writing makes me want to read for hours. I could not put this book down. This book would be a great read after reading the Crucible in an American Literature English class.
And because it's October,
Conversion
would make an awesome October read.
Meeting Katherine Howe
I was able to attend a release party for the book in Salem, MA back in July. The Salem Athenaeum was nice and cozy and the perfect size for the party. Howe did the speak to long about her book but what she had to say was very insightful. There were cheese, crackers and other h'oueuvres. I believe there were wine and water as well. It was nice to mingle with other people at the Salem Athenaeum and to meet Howe.
Unfortunately, I was not feeling well earlier this month when she had a party for
The Penguin Book of Witches
. I assume it was amazing since, again, it was held in Salem and at the Salem Witch Museum. If anyone is interested in meeting Howe and is around the Salem, MA area in November, she will be at the Salem Literacy Festival on Saturday, November 8, 2014 at 2:00 p.m.