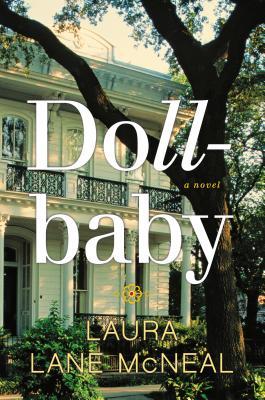 Title:
Dollbaby
Author:
Laura Lane McNeal
Publisher:
Pamela Dorman Books
Publication date:
July 3, 2014
Pages:
377
Source/format:
Purchased, hardcover
Rating:
☆☆☆☆☆
Synopsis
(from Goodreads)
:
A big-hearted coming-of-age debut set in civil rights-era New Orleans—a novel of Southern eccentricity and secrets
When Ibby Bell's father dies unexpectedly in the summer of 1964, her mother unceremoniously deposits Ibby with her eccentric grandmother Fannie and throws in her father's urn for good measure. Fannie's New Orleans house is like no place Ibby has ever been—and Fannie, who has a tendency to end up in the local asylum—is like no one she has ever met. Fortunately, Fannie's black cook, Queenie, and her smart-mouthed daughter, Dollbaby, take it upon themselves to initiate Ibby into the ways of the South, both its grand traditions and its darkest secrets.

For Fannie's own family history is fraught with tragedy, hidden behind the closed rooms in her ornate Uptown mansion. It will take Ibby's arrival to begin to unlock the mysteries there. And it will take Queenie and Dollbaby's hard-won wisdom to show Ibby that family can sometimes be found in the least expected places.

For fans of Saving CeeCee Honeycutt and The Help, Dollbaby brings to life the charm and unrest of 1960s New Orleans through the eyes of a young girl learning to understand race for the first time.

By turns uplifting and funny, poignant and full of verve, Dollbaby is a novel readers will take to their hearts.
My Thoughts:
Dollbaby is definitely my favorite book I've read this year. Laura Lane McNeal has a way with words. The character development is amazing and there are so many twists in this novel.

This is an amazing coming of age story about Ibby. She moves in with her grandmother, Fannie, after her father passes away in an accident and her mother abandons Ibby on Fannie's doorstep. Ibby is introduced to Queenie and Doll. The four become very close overtime and are family to one another. I loved reading about Ibby as a 12-year-old, a 16-year-old and as a 20-year-old. Reading the characters in 4 year intervals really shows how the characters matured.

Fannie has many secrets to tell and I loved the way McNeal shows some of these secrets through mini flashbacks. I felt bad for Fannie. She went through so much throughout her lifetime, losing many of her loved ones but she was still able to regain her family through Queenie, Doll and Ibby.

The more I keep reading this book, the more I fell in love with the characters. I've grown attached to the characters and I am sad that I finished the book but it's definitely a book that I will recommend to everyone.