So Christmas is around the corner and of course I have a few Harry Potter related items that I wouldn't mind leaving under the tree. What Potterhead wouldn't want HP items for the holidays? Elizabeth from
Book YAbber
and I decided to do a Harry Potter twist for this week's Top Ten Tuesday! Top Ten Tuesday is a weekly meme hosted by
The Broke and the Bookish
. This week's Top Ten Tuesday asks bloggers to choose ten books they wouldn't mind santa leaving under their tree this year. So instead of books, Elizabeth and I decided to choose Harry Potter items for the list. The following items are in no particular order.
Frostbeard | Christmas in the Great Hall Soy Candle - $18.00
I would love to experience Christmas at Hogwarts but since I can't, this is the next best thing. The aromas of mistletoe, gingerbread, cinnamon and peppermint makes this 8 oz. candle magical!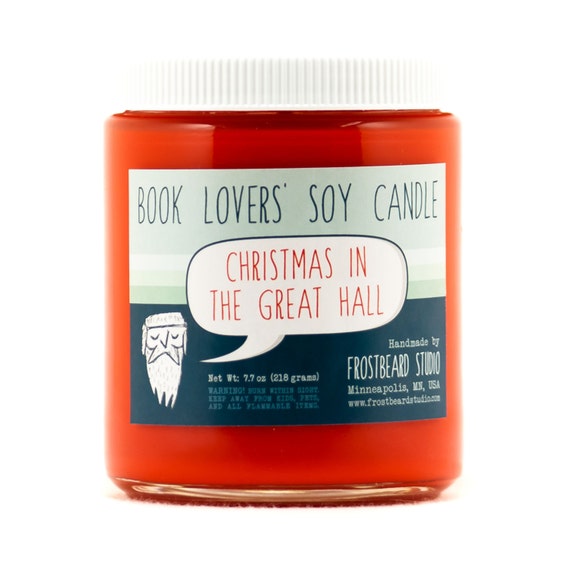 From The Page | Christmas at Hogwarts Soy Candle - $11.00
So you can say that I am excited about all of these Christmas holiday scented candles. All I want for Christmas is Christmas at Hogwarts! From The Page has an assortment of literary candles for sale. This 8 oz. candle has a throw of Christmas Hearth, which is pine, fir and hints of orange.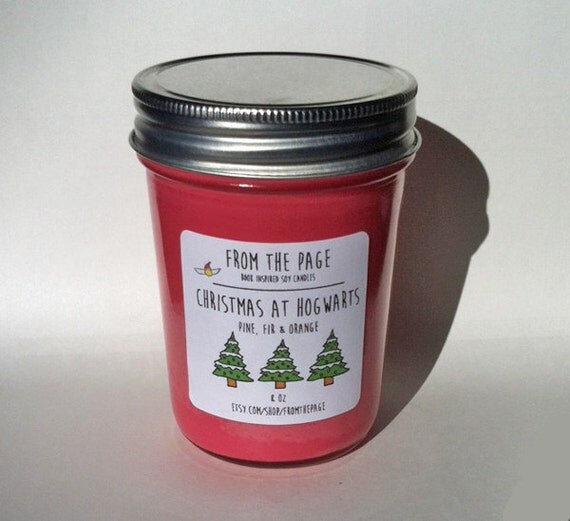 Fortune Cookie Soap | Rum Butter Whipped Cream (Body Butter) - $10.99 to $16.49
Butterbeer scented body butter? Yes, please! I love Fortune Cookie Soap's whipped creams. The whipped creams moisturize the skin well and are non-greasy. Fortune Cookie Soap also has the Rum Butter scent in other products such as body wash, bath oil, soap and hand sanitizer. Check out the full line
here
. Also, Fortune Cookie Soap sells a PJP (Polyjuice Potion) scent
here
.
Think Geek | Harry Potter Quidditch Lounge Pants - $24.99
This cozy pair of lounge pants is perfect for the winter months while showing of the Potterhead pride. I love how it has pockets and a drawstring. This would pair well with my Ravenclaw and Hogwarts lounge pants.
Harry Potter: Magical Places from the Films: Hogwarts, Diagon Alley, and Beyond Book - $26.65
I have three Harry Potter film books so far and I wouldn't mind adding this one and the Harry Potter: The Character Vault to my collection. I love all the magical places in the Harry Potter series and would love to explore them more on my own time. Reading more about Diagon Alley, Hogsmeade and Hogwats will be fascinating.
Nook & Burrow | Always Brooch - $12.00 AUD
Gwen from
The Book Lounge
listed Nook & Burrow has a place to go for bookish gifts. And boy was she on the money! Nook & Burrow has fantastic gifts from brooches to candles to wooden bookmarks. This particular brooch caught my eye because if you are a Harry Potter fan, Always holds a special spot in your heart.
Also from Nook & Burrorw is this awesome wooden bookmark. I would love to mark my pages with this bookmark! Books are indeed portable magic!
I have been a a supporter of the Harry Potter Alliance for some time now. I donate many of my books to the
Accio Books Campaign
, participate in the apparating library. Support the Harry Potter Alliance! All proceeds will go to help promote literacy around the world, help promote human rights and more! I choose this wonderful shirt since I am a big supporter of Hermione Granger and Luna Lovegood. Although they both might have different standpoints about certain things, they strive for the making the world a better place.
Novelly Yours | Yule Ball Candle - $11.00
This amazing 8 oz. soy candle is made by Brittany from
The Book Addict's Guide
. Yule Ball has notes of pine, mint, snow, and butterbeer. Sounds freaking amazing and definitely up my alley in terms of candle scents. It's the perfect Harry Potter holiday candle!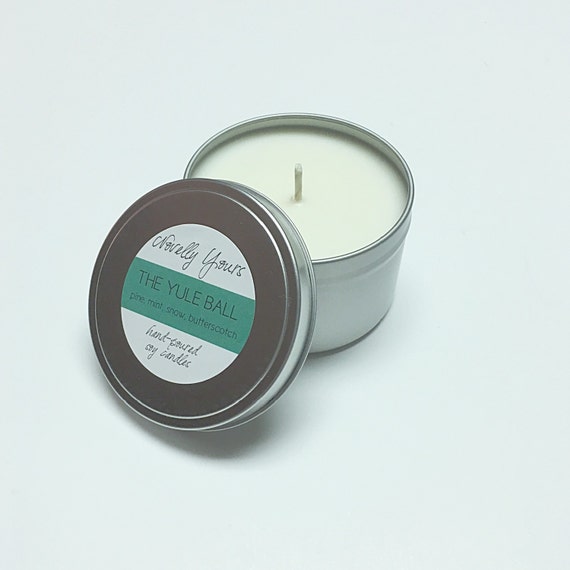 Walnut Grove Board Co. | Harry Potter Engraved Cutting Board - $42.95
I love to bake and cook and how awesome would it be to show off my favorite fandom in the kitchen?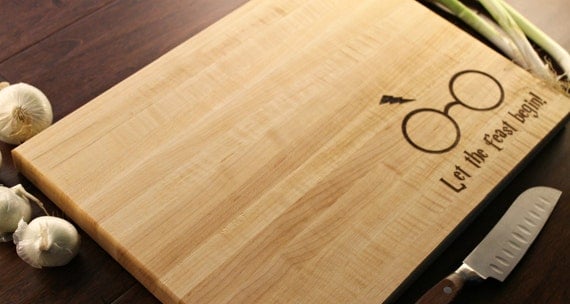 Good Good Pins | Mousely Hallows - $10.00
This pin is a fusion of Mickey Mouse ears and the Deathly Hallows. As a fan of both Disney and Harry Potter, I would love to own this pin some day.
What do you have on your wishlist? Do you have anything in particular you hope will be under your tree? Is it a book or Harry Potter item?
Check the blog back on Wednesday, December 23nd for a Digital Holiday Card and Appreciation Letter. If you are new to Pottermas 2015, make sure to check out this post. Also, you can follow Pottermas 2015 on social media with the hashtag #Pottermas15.