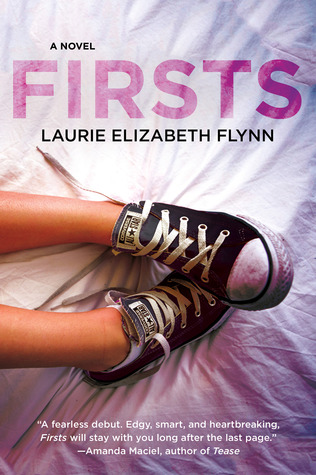 Title:
Firsts
Author:
Laurie Elizabeth Flynn
Publisher:
St. Martin's Griffin
Publication date:
January 5, 2016
Pages:
320
Source/format:
e-ARC from Netgalley
Rating:
☆☆☆
☆
Synopsis (from Goodreads.com):

Seventeen-year-old Mercedes Ayres has an open-door policy when it comes to her bedroom, but only if the guy fulfills a specific criteria: he has to be a virgin. Mercedes lets the boys get their awkward, fumbling first times over with, and all she asks in return is that they give their girlfriends the perfect first time- the kind Mercedes never had herself.

Keeping what goes on in her bedroom a secret has been easy- so far. Her absentee mother isn't home nearly enough to know about Mercedes' extracurricular activities, and her uber-religious best friend, Angela, won't even say the word "sex" until she gets married. But Mercedes doesn't bank on Angela's boyfriend finding out about her services and wanting a turn- or on Zach, who likes her for who she is instead of what she can do in bed.

When Mercedes' perfect system falls apart, she has to find a way to salvage her reputation and figure out where her heart really belongs in the process. Funny, smart, and true-to-life, FIRSTS is a one-of-a-kind young adult novel about growing up.

My Thoughts
"I want to be Faye. I want to be fearless like her, bold like her. I want to figure out a way to be apologetically myself, just like she has." - ARC
Mercedes Ayres is your typical high school girl but she harbors a secret. She provides a service that most people will not approve of. Everyone wants their first time to be special. And when I mean first time, I mean sex. Many guys seek Mercedes guidance to plan the perfect date for the first time. Mercedes mother, Kim, is hardly ever home and Mercedes even joined a prayer group so many people don't know what Mercedes does during her free time. Angela is Mercedes best friend but is super conservative and religious. Angela doesn't know any of Mercedes secrets.
Although Mercedes has "Wednesday friend," all sexual encounters is strictly to teach guys how to treat a women. This is a reason why she started this service. Mercedes wants to make sure that guys are educated about making sure to use protection and to make sure they treat their girlfriends with respect. She doesn't take payment from anyone but wants the guys to make sure their girlfriends are treated well. This is Mercedes' pay it forward service until someone unexpected is blackmailing Mercedes. Can I say that this unexpected person is a real scumbag? Mercedes thought she was doing something good and then he uses her and taints her reputation because Mercedes wouldn't give what he wants. And Angela not believing her? I was appalled.
Mercedes is dealing with some serious stuff in her life. With an absent father and a mother who is hardly home, Mercedes isn't flawless. In her past, during her first sexual encounter, Mercedes was taken advantaged of at a young age. She didn't tell anyone about it. She doesn't want other girls to be taken advantaged of. Now, sex is a way to educate but also to have some control in her life. Her "Wednesday friend," Zach, wants to be more than friends. He wants something more but Mercedes is afraid to commit. Then Faye comes along. Faye is from Nevada and is the new student at Milton High School. Faye also seems to be flirting with Zach. This is the first time Mercedes is jealous. However, Faye and Zach are the only friends that Mercedes has that are always by Mercedes side. I feel bad how Mercedes treats Zach. It's obvious she wants him but she pretends she doesn't want him only for him to find out that she has been with other guys. In Zach's shoes, he must feel horrible and hurt.
I am glad sex isn't sugarcoated in
Firsts
. Laurie Elizabeth Flynn discusses the topic realistically. It's raw and emotional. There are pros and cons. Sex is not perfect. However, I am super ecstatic that Flynn covers safe sex in
Firsts
. Telling teenagers not to have sex is unrealistic. Let's face it, we all know that teenagers have sex. Instead of saying sex is bad, it's better to inform teenagers how to protect themselves if they do continue to do the deed. I haven't read too many books that highlight sex as a positive thing and that people shouldn't be ashamed of it.
I also like how Flynn includes Mercedes also tutoring people in Chemistry and not just in how to please a lady. Mercedes is super smart. She gets accepted to MIT and she cannot wait to escape California to Massachusetts. After being blackmailed, the letter is the only solace for her.
Because society deems sex a certain way, females are called sluts if they have sex but if males have sex, then it's fine. This double standard is ridiculous. I wonder if the people at Milton High realize that it isn't Mercedes that is doing the deed by herself. I don't see anyone saying anything about the guys doing anything. Why should it be okay for males to have sex but it's not okay for females to have sex?
I do have to admit that I was a bit hesitate to read this controversial book because of the topic. I questioned whether this book would be a good read. However, Flynn's writing definitely tackles a tough topic flawlessly.
Firsts
actually reminds me of films
Mean Girls
and
Easy A
. This novel is well written and I would recommend
Firsts
to those who enjoy reading realistic YA contemporary and are mature. However, those sensitive to rape, sex, bullying, and child pregnancy should proceed with caution. This novel contains subjects that may be hard for some to read.