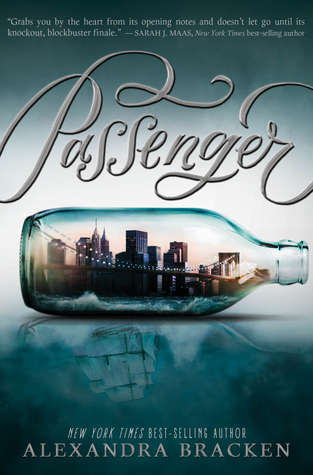 Title:
Passenger
Author:
Alexandra Bracken
Publisher:
Disney-Hyperion
Publication date:
January 5, 2016
Pages:
464
Source/format:
e-ARC from Netgalley
Rating:
☆☆☆
☆
Synopsis (from Goodreads.com):

passage, n.
i. A brief section of music composed of a series of notes and flourishes.
ii. A journey by water; a voyage.
iii. The transition from one place to another, across space and time.

In one devastating night, violin prodigy Etta Spencer loses everything she knows and loves. Thrust into an unfamiliar world by a stranger with a dangerous agenda, Etta is certain of only one thing: she has traveled not just miles but years from home. And she's inherited a legacy she knows nothing about from a family whose existence she's never heard of. Until now.

Nicholas Carter is content with his life at sea, free from the Ironwoods—a powerful family in the colonies—and the servitude he's known at their hands. But with the arrival of an unusual passenger on his ship comes the insistent pull of the past that he can't escape and the family that won't let him go so easily. Now the Ironwoods are searching for a stolen object of untold value, one they believe only Etta, Nicholas' passenger, can find. In order to protect her, he must ensure she brings it back to them— whether she wants to or not.

Together, Etta and Nicholas embark on a perilous journey across centuries and continents, piecing together clues left behind by the traveler who will do anything to keep the object out of the Ironwoods' grasp. But as they get closer to the truth of their search, and the deadly game the Ironwoods are play­ing, treacherous forces threaten to sep­arate Etta not only from Nicholas but from her path home . . . forever
My Thoughts
Henrietta Spencer (aka Etta) lives in New York during the year of 2015 as a violinist prodigy and is suddenly transported back into time to a random place in 1776 on a ship in the middle of the Atlantic Ocean. Little did she know she was going to befriend Nicholas Carter. Nicholas is content about his life since he is free from the Ironwoods for many years until Etta shows up. Both Etta and Nicholas are launched into a web of lies, secrets and betrayal. It's a game that they must play. He finds out that the Ironwoods are not giving up on him. Both time travelers undertake this dangerous journey, crossing many continents and centuries to locate an artifact called an astrolabe in order to save Etta's mother. If Etta fails to locate the astrolabe and bring it back to the Ironwoods, she will lose everything.
Time traveling is something I don't see too much in YA and I am glad Alexandra Bracken wrote
Passenger
so wonderfully. I love how Bracken weaves music with a dangerous voyage across seas. The plot is carefully crafted. The novel is well written and the dual POVs capture the emotions and thoughts of both characters seamlessly. Readers are transported to New York, London, Angkor, Paris and Damascus during various time periods. Etta is strong-willed, cunning and independent young lady while Nicholas is vigilant and protective. The writing is compelling but I feel like the pacing of the book is slower toward the middle and the novel could have been shortened. The book is over 450 pages and certain parts could have been tightened. I do appreciate seeing diversity in the book and how Bracken doesn't sugarcoat how Nicholas is being treated throughout the past. And that cliffhanger! I don't want to spoil the novel too much but this is a must read!
If you're a fan of the
Infernal Devices trilogy
by Cassandra Clare and or are interested in historical fiction, I would highly recommend
Passenger
.