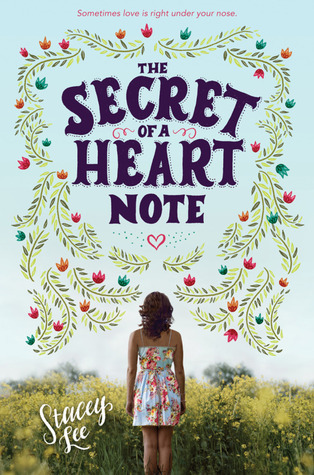 Title:
The Secret of a Heart Note
Author:
Stacey Lee
Publisher:
Katherine Tegen Books
Publication date:
December 27, 2016
Pages:
384
Source/format:
e-ARC from publisher
Rating:
☆☆☆
☆
☆
Synopsis (from goodreads.com):

An evocative novel about a teen aroma expert who uses her extrasensitive sense of smell to mix perfumes that help others fall in love while protecting her own heart at all costs

Sometimes love is right under your nose. As one of only two aromateurs left on the planet, sixteen-year-old Mimosa knows what her future holds: a lifetime of weeding, mixing love elixirs, and matchmaking—all while remaining incurably alone. For Mim, the rules are clear: falling in love would render her nose useless, taking away her one great talent. Still, Mimosa doesn't want to spend her life elbow-deep in soil and begonias. She dreams of a normal high school experience with friends, sports practices, debate club, and even a boyfriend. But when she accidentally gives an elixir to the wrong woman and has to rely on the lovesick woman's son, the school soccer star, to help fix the situation, Mim quickly begins to realize that falling in love isn't always a choice you can make.

At once hopeful, funny, and romantic, Stacey Lee's The Secret of a Heart Note is a richly evocative coming-of-age story that gives a fresh perspective on falling in love and finding one's place in the world.
M Y T H O U G H T S
Mimosa (Mim) wants to experience life as a teenager but because she is from a family of aromateurs, it is her duty to carry on the legacy. There are many rules Mim's mother sets aside in order to set a certain reputation. One can not go swimming or eat certain foods. If one falls in love, she will lose her sense of smell to whip up such elixirs. Welcome to the elixir magic of a love witch.
Stacey Lee lush descriptions are splendid. Her writing is a dream! She touches all five senses and
The Secret of a Heart Note
is very unique. The novel reminds me of all the notes in my candle fragrances and my indie perfumes. I love how Lee breaks down the different top notes, heart notes and base notes of an elixir and scentprints.
The Secret of a Heart Note is
memorizing and tantalizes all the senses. Lee educates readers about language of flowers and how to concoct the perfect essence.
Mim is relatable and is so compassionate. I was rooting for her throughout the whole novel. Her relationship with Court is adorable. Mim has an amazing best friend, Kali, who sticks by Mim's side no matter what. Mim is also willing to correct and learn from her mistakes. She is independent and a go-getter. However, her relationship with her mother is on the rocks. Lee is able to shine the spotlight on the mother-daughter relationship between Mim and Mim's mother. There is also a sisterly relationship between Mim's mother and Mim's aunt that is covered throughout the novel.
Although I love Lee's historical fiction novels,
Under a Painted Sky
and
Outrun the Moon
,
The Secret of a Heart Note
is so heartfelt and romantic. She pulls at your heartstrings with this novel. This emotional roller coaster is bursting! I even teared up at the end of the book because the ending is flawless! I couldn't ask for anything more.
If you're looking for a cute contemporary romance with a touch of magical realism and relationship building, definitely check out
The Secret of a Heart Note
. It's a hybrid of
Practical Magic
by Alice Hoffman and
Salt & Storm
by Kendall Kulper.