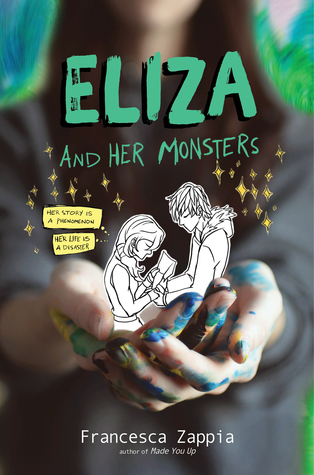 Title:
Eliza and Her Monsters
Author:
Francesca Zappia
Publisher:
Greenwillow Books
Publication date:
May 30, 2017
Pages:
400
Source/format:
e-ARC from publisher
Rating:
☆☆☆
☆
☆
Synopsis (from goodreads.com):

In the real world, Eliza Mirk is shy, weird, and friendless. Online, Eliza is LadyConstellation, anonymous creator of the wildly popular webcomic Monstrous Sea. Eliza can't imagine enjoying the real world as much as she loves her digital community, and has no desire to try.

Then Wallace Warland, Monstrous Sea's biggest fanfiction writer, transfers to her school. Wallace thinks Eliza is just another fan, and Eliza begins to wonder if a life offline might be worthwhile. But when Eliza's secret is accidentally shared with the world, everything she's built—her story, her relationship with Wallace, and even her sanity—begins to fall apart.

With illustrations from Eliza's webcomic, as well as screenshots from Eliza's online forums and snippets of Wallace's fanfiction, this uniquely formatted book will appeal to fans of Noelle Stevenson's Nimona and Rainbow Rowell's Fangirl.
M Y T H O U G H T S
"That computer is my rabbit hole; the internet is my wonderland. I am only allowed to fall into it when it doesn't matter if I get lost." - ARC of Eliza and Her Monsters
Eliza and Her Monsters
is part geeky, part adorable and one hundred percent addictive. In the vein of Rainbow Rowell's
Fangirl
, Eliza Mirk has an online alter ego where she is known as LadyConstellation, the creator of one of the most popular webcomics called Monstrous Sea. Just like Cath, Eliza pours her heart into what she is passionate about. Eliza feels more comfortable talking to her online friends since in real life people think she is weird.
A new guy named Wallace moves to town during senior year and it's fate that he is also a huge Monstrous Sea fan. Eliza debates whether to let him know that she is the creator of the webcomic but decides to ride it out that she is just a huge fan of the series and likes to create fan art.
One day Eliza's world starts crashing down when her identity of the creator of Monstrous Sea gets revealed. Eliza starts to have panic attacks and her anxiety increases. She even starts seeing a therapist. Francesca Zappia even touches upon grief through Wallace and what happened to his biological father. Warning, there are slight mentions of suicide and possible depression for those who are sensitive to those topics.
Francesca Zappia delves into two different types of families. The structure of each family shapes Eliza and Wallace differently. We have Eliza's family with a mom, dad, two brothers and her dog. On the other hand, we have Wallace's family where he lives with two step parents, a half sister and a step sister. It's good for readers to know that there are different varieties of families out there and there is no such thing as the perfect family. Everyone has their share of joy and distress.
Throughout the novel, Zappia includes illustrations from Eliza's webcomics which acts as a visual aid to show readers what Eliza is currently working on. Zappia also includes some of the conversation she has through an online forum. They add a more personal touch to the novel.
The interaction between Eliza and Wallace is perfect. There is no instalove and their friendship grows before their love blooms. Zappia breaks down stereotypes. Wallace who enjoys football can also love writing and reading webcomics. Even one of Eliza's brothers likes theatre and choir despite the love for sports and video games. Zappia reminds readers that we cannot judge people by their looks. There is more than meets the eye. We just need to scratch under the surface a bit to see it.
Readers who love fan fiction and fan art alike will devour this book! This book is made for people who like to geek out at home on forums and find themselves chatting with people online. There is no question that
Eliza and Her Monsters
is another favorite novel of mine. With its quirkiness, honesty and sense of nostalgia, I can relate to Eliza and all the people who live on that Monstrous Sea forum.
Eliza and Her Monsters
is a novel to celebrate fandom. No matter what fandom you belong to, go out there and create something meaningful. I am sure someone will find your creation to be extraordinary and you will make at least one new friend. Fandom brings people together no matter what kind of lives they are living. Fandom is where people feel like themselves despite the tough things they have to accept in their lives.