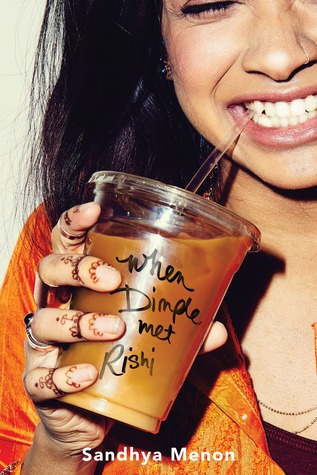 Title:
When Dimple Met Rishi
Author:
Sandhya Menon
Publisher:
Simon Pulse
Publication date:
May 30, 2017
Pages:
320
Source/format:
e-ARC from publisher
Rating:
☆☆☆
☆
☆
Synopsis (from goodreads.com):





A laugh-out-loud, heartfelt YA romantic comedy, told in alternating perspectives, about two Indian-American teens whose parents have arranged for them to be married.

Dimple Shah has it all figured out. With graduation behind her, she's more than ready for a break from her family, from Mamma's inexplicable obsession with her finding the "Ideal Indian Husband." Ugh. Dimple knows they must respect her principles on some level, though. If they truly believed she needed a husband right now, they wouldn't have paid for her to attend a summer program for aspiring web developers…right?

Rishi Patel is a hopeless romantic. So when his parents tell him that his future wife will be attending the same summer program as him—wherein he'll have to woo her—he's totally on board. Because as silly as it sounds to most people in his life, Rishi wants to be arranged, believes in the power of tradition, stability, and being a part of something much bigger than himself.

The Shahs and Patels didn't mean to start turning the wheels on this "suggested arrangement" so early in their children's lives, but when they noticed them both gravitate toward the same summer program, they figured, Why not?

Dimple and Rishi may think they have each other figured out. But when opposites clash, love works hard to prove itself in the most unexpected ways.
M Y T H O U G H T S

"Keep it. Remember me. And don't tattle." - ARC of When Dimple Met Rishi
Dimple Shah got into her dream college, Stanford. However, there is this summer program called Insomnia Con in San Francisco that she wants to attend but she needs to find a way to convince her parents to her go. Dimple's parents are more concerned for Dimple finding a I.I.H. (aka the Ideal Indian Husband). All Dimple wants is to live her life and immense herself in web development learning from the best. Rishi Patel is the total opposite. He embraces his parents to find the perfect future wife. Rishi's parents knew Dimple would be at the Insomnia Con program and they already know Dimple's parents.
The first official meeting between Dimple and Rishi is priceless! Dimple seems to despise Rishi but overtime she warmed up to him and even they even become friends. She knows it's not his fault and even tells him to stay when he offered to go home early. Their budding friendship ends up turning into something more.
Sandhya Menon's debut novel is charming with just enough humor. This romantic comedy shares the views of two children of two sets of Indian parents. I found it refreshing to read a novel that shows two sides of a coin. Dimple is a quirky yet spirited, goal-orientated young lady who wants to advance her career. She doesn't care about arranged marriages; she wants freedom and her independence. Rishi, on the other hand, is a hopeless romantic trying to woo Dimple. He believes in tradition while Dimple finds the culture suffocating her. Rishi's passion is art but he sees it more like a hobby and not a practical field to go into for a career.
Dimple is a role model for teenage girls. It's okay to like math, science and technology. It's okay to wear glasses and not to wear any makeup. I wish I read about Dimple when I was younger. Nowadays STEM is pretty big in education, especially for females. STEM related fields are still male dominated. It's exhilarating to read about a career-driven young lady who is passionate about web development and not about makeup and boys.

When Dimple Met Rishi tackles the struggles of desires and passions. Dimple and Rishi both gather the strength to vocalize what they are passionate about and what they want in life. Dimple's passion is web development and Rishi's passion is art. However, even though they don't want to admit, the love they have for one another is strong and they cannot let it go no matter what they want in life. Do things that make you happy! Trust your gut feeling!

Menon writes When Dimple Met Rishi with sincerity. The novel is exuberant! I was smiling when I was reading the novel for most of the time. When reading When Dimple Met Rishi, I see myself through both Dimple and Rishi. I have never read a book where I see myself completely in. I can see a part of myself in Dimple and a part of myself in Rishi. Menon fuses culture, socio-economics and overriding gender stereotypes in this rom-com. When Dimple Met Rishi is a fluffy yet heartwarming read. I highly recommend it and it's definitely a new favorite of mine.