Happy December everyone! I am ecstatic that Pottermas 2016 is finally here! Elizabeth from
Book YAbber
, Marci from
The Plot Bunny
and I are celebrating Pottermas 2016 which is a fun filled December feature showcasing our favorite fantasy series, Harry Potter! This feature,
Pottermas 2016
, will be broken down into book general HP discussions, HP gift guide, HP recipes, HP craft tutorials and more. Follow the hashtag
#Pottermas16
all month long!
Elizabeth and I came up with Pottermas last year and Marci joined us for this year. If you want to see what Elizabeth and I did last year during Pottermas 2015, you can check out the magical posts
here
. If you want to know more about my journey with Harry Potter, check out this
post
.
December is always one of my favorite times to re-read Harry Potter and to watch the HP movies. Also, we are lucky that Fantastic Beasts and Where to Find Them is in theaters now!
The Wizarding World will always be with us. Harry Potter has sparked a movement of literature, social activism, self-discovery and a sense of belonging.
POTTERMAS 2016 SCHEDULE
December 1st: Pottermas Introduction
December 5th:
Ten Underrated Moments in Harry Potter
December 7th:
Harry Potter Patronus
December 10th:
Ranking Harry Potter Soundtracks
December 12th:
Harry Potter Recipe
December 14th:
Harry Potter Funko Pop Photoshoot
December 17th:
Harry Potter Craft Tutorial
December 20th:
Harry Potter Gifts I Wouldn't Mind Santa Leaving Under My Tree
December 23rd:
Favorite Harry Potter Spells
December 28th:
Favorite Harry Potter Character Quotes and Moments
December 31st:
Harry Potter and the Cursed Child Review
For those who don't know my house affiliations, Patronus, etc., please see below for my Harry Potter Pottermore stats.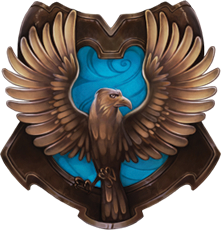 Image from harry potter.wikia.com
Name: Nicole
Hogwarts House: Ravenclaw
Ilvermorny House: Thunderbird
Patronus: Grey Squirrel
Wand: Sycamore, unicorn hair, 10 inches and slightly springy
Are there certain discussions you want to see about Harry Potter for this month? What house(s) do you belong to? What is your Patronus?