Marci from
The Plot Bunny
and I are showcasing Kim Liggett for the third post for Sisterhood of the Traveling ARC! Elizabeth from
Book YAbber
will be skipping this round but will be back next round. Because the three of us love reading ARCs, we decided on sharing our ARCs with one another, not only to allow each of us to read a new title, but to promote how obtaining an ARC is not about trying to hoard an ARC for yourself.
ARCs are meant for promotional reasons. We figured that if we can share one ARC amongst the three of us, it means that the publisher is getting three times as much promotion from one ARC. Each of us will be doing a post on the title we decide to share.
Elizabeth, Marci and I have read Kim Liggett's first book,
Blood and Salt
and it is beautifully written. Her sophomore book,
The Last Harvest
, has been on our TBR lists for the longest time and we are fortunate to read it early! Kim has wowed us with her writing and keeps us on our toes!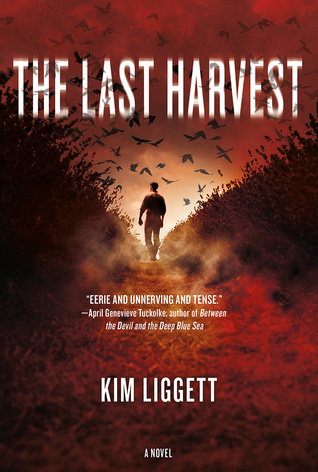 Title:
The Last Harvest
Author:
Kim Liggett
Publisher:
Tor Teen
Publication date:
January 10, 2017
Pages:
352
Source/format:
ARC from publisher
Rating:
☆☆☆
☆
☆
Synopsis (from goodreads.com):

"I plead the blood."

Those were the last words seventeen-year-old golden boy quarterback Clay Tate heard rattling from his dad's throat when he discovered him dying on the barn floor of the Neely Cattle Ranch, clutching a crucifix to his chest.

Now, on the first anniversary of the Midland, Oklahoma slaughter, the whole town's looking at Clay like he might be next to go over the edge. Clay wants to forget the past, but the sons and daughters of the Preservation Society—a group of prominent farmers his dad accused of devil worship—won't leave him alone. Including Ali, his longtime crush, who suddenly wants to reignite their romance after a year of silence, and hated rival Tyler Neely, who's behaving like they're old friends.

Even as Clay tries to reassure himself, creepy glances turn to sinister stares and strange coincidences build to gruesome rituals—but when he can never prove that any of it happened, Clay worries he might be following his dad down the path to insanity...or that something far more terrifying lies in wait around the corner.
M Y T H O U G H T S
Clay Tate is forever haunted about the incident that happened one year ago with his father. His father's last words still linger. Living in Midland, Oklahoma can be tough especially when everyone knows the whole town. Clay becomes suspicious of the Preservation Society and what his father was trying to tell him before he died. From branding to occult rituals, Clay has no clue what he is in for. All Clay knows is that he gave up his dreams to play football and to go to college in order to take care of his mother and sisters.
Clay is a character that I can connect with. I love how he is family orientated. Clay's mother and his sisters, Jess and Noodle, are important to him. After all, he has to step up into a parental role ever since his father passed away. The way Clay is observant trying the piece all the clues is the best! He knows something is wrong and wants an answer. He will not settle until he finds out what his father was trying to prevent.
Kim Liggett is the queen of writing novels that are not only terrifying but they permeate deep into your core. After reading the first chapter, Liggett is not shy to dive right into the gruesomeness of the Neely Cattle Ranch slaughter. She goes right for the kill on page 3. She is a genius! Liggett leaves many clues and I had no idea how the novel was going to end which is freaking fantastic! I had two guesses about the prophecy. The ending is eerie and perfect in every way.
Liggett sets the bar for horror very high.
The Last Harvest
is absolutely frightening and mesmerizing! I was able to read this engrossing and horrific masterpiece in October which is the perfect time of year to be creeped out. You will never look at cattle and dolls the same anymore. There are mentions of religion, creepy dolls, occult rituals, death, mutilation of animals and possible incest.
The Last Harvest
is chilling to the bone and exquisitely twisted! Liggett knows how contort a story where your brain explodes. Beware when you read
The Last Harvest
.
"I plead the blood."