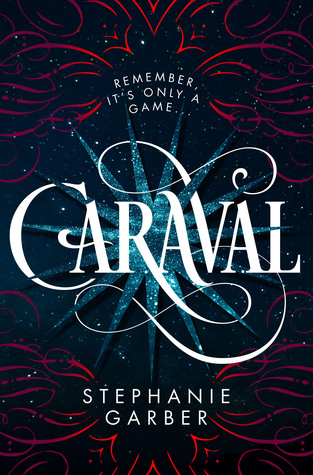 Title:
Caraval
Author:
Stephanie Garber
Publisher:
Flatiron Books
Publication date:
January 31, 2017
Pages:
407
Source/format:
ARC from publisher through Goodreads Giveaway
Rating:
☆☆☆
☆
☆
Synopsis (from goodreads.com):

Welcome, welcome to Caraval―Stephanie Garber's sweeping tale of two sisters who escape their ruthless father when they enter the dangerous intrigue of a legendary game.

Scarlett has never left the tiny island where she and her beloved sister, Tella, live with their powerful, and cruel, father. Now Scarlett's father has arranged a marriage for her, and Scarlett thinks her dreams of seeing Caraval, the far-away, once-a-year performance where the audience participates in the show, are over.

But this year, Scarlett's long-dreamt of invitation finally arrives. With the help of a mysterious sailor, Tella whisks Scarlett away to the show. Only, as soon as they arrive, Tella is kidnapped by Caraval's mastermind organizer, Legend. It turns out that this season's Caraval revolves around Tella, and whoever finds her first is the winner.

Scarlett has been told that everything that happens during Caraval is only an elaborate performance. But she nevertheless becomes enmeshed in a game of love, heartbreak, and magic with the other players in the game. And whether Caraval is real or not, she must find Tella before the five nights of the game are over, a dangerous domino effect of consequences is set off, and her sister disappears forever.
M Y T H O U G H T S
"Brillant gold-blue sparks--the color of childhood dreams." - ARC of Caraval
Scarlett Dragna has been writing to Caraval Master Legend for many years asking him to bring his Caraval performers to the Isle of Trisda. One day he actually writes back! Ever since Scarlett was a little girl, she was lured into the wonders of Caraval thanks to the countless stories her grandmother told her as a child. She adored every story! Should Scarlett pursue her arranged marriage or travel to see the annual Caraval performance? After all, isn't Caraval something not to miss?
Stephanie Garber takes her readers on an exhilarating ride full of magic!
Caraval
is simply captivating! Garber draws in her readers with letters from Scarlett to the Caraval Master Legend which adds a nice touch in pacing and introduction. Her descriptions her vivid and lush. She paints a whole new world with brilliant shades of cerulean blues, shimmering golds and seductive reds. Caraval's color palette is exploding with extraordinariness.
The sisterly bonding between Scarlett and Donatella (Tella) is strong and both will do anything to help each other out. They would even protect one another from their ruthless and abusive father. Their bond is unbreakable! They are dedicated through and through and loyal to each other. Their personas actually remind of of Tina and Queenie Goldstein from
Fantastic Beasts and Where to Find Them Screenplay
. Scarlett and Tina like to play by the rules. They are a bit more rigid and not as forgiving. Tella and Queenie are more flirtatious, bold and adventurous.
Caraval
infuses reality with magic and fantasy. In this world, there is a hint of old fashion living arrangements due to the use of oil lamps, very elaborate clothing with bustles and traveling by boat for transportation. The magic mixed with the old world gives off a mysterious and alluring vibe. Garber bewitches the reader's mind.
Julian, Dante, Aiko, Jovan and Legend definitely add character to the novel. Caraval is like revised game of Clue and
The Hunger Games
with magic. Who is who and who can you trust? What is real and what is not real? Garber's twisty dreams and illusions are guaranteed to keep you guessing who is on Scarlett's side until the very end. After all, it's only a game right?
Caraval
is Garber's debut novel and it sure doesn't disappoint and I hope you have a chance to join Scarlett on her enchanting journey! This sensational novel will sweep you off your feet.
Caraval
is a must read, especially if you're a fan of
The Night Circus, The Crown's Game
and
The Hunger Games
. I would love to see Caraval translated for the big screen. It will be beyond spectacular!