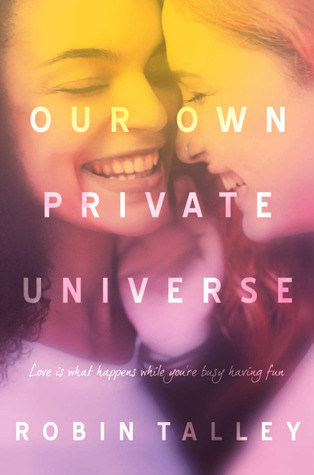 Title:
Our Own Private Universe
Author:
Robin Talley
Publisher:
Harlequin Teen
Publication date:
January 31, 2017
Pages:
304
Source/format:
e-ARC from publisher
Rating:
☆☆☆
☆
Synopsis (from goodreads.com):



Fifteen-year-old Aki Hunter knows she's bisexual, but up until now she's only dated guys—and her best friend, Lori, is the only person she's out to. When she and Lori set off on a four-week youth-group mission trip in a small Mexican town, it never crosses Aki's mind that there might be anyone in the group she'd be interested in dating. But that all goes out the window when Aki meets Christa.
M Y T H O U G H T S
Akina (Aki) Hunter and Lori Smith have been best friends forever. Aki and Lori decide visit Mexico with their youth group traveling all the way from their home in Maryland. In a town outside of Tijuana, Aki and Lori help out with a volunteer project for a month with their church, the Holy Life in Silver Spring. In Mexico, there is a conference and a chance for the youth group to meet others from other Holy Life youth groups. Aki doesn't know what to expect when she spends a month in Mexico.
Aki and Christa Lawrence warm up to each other fairly early in the novel and a relationship develops. I like how Robin Talley lets the readers know Aki's thoughts and emotions throughout her journey of exploration of who she is. Aki's older brother Drew and father are on the trip as well. Not only is her friend Lori involved with her life but her family is as well. Her father is a youth minister and is leading the group. Both her father and her brother are very understanding and supportive of Aki. Drew also harbors a secret that he doesn't want his parents to find out about as well. Actually it seems like everyone in this novel has a secret that they don't want others to know about.
Aki's voice is realistic. Many teens will definitely be able to contact to her authenticity. Her trysts with Christa show how love is unpredictable. Talley describes first loves perfectly. That jealousy that one has when the other talks to their ex or even the butterflies one gets when they think about the person they like are feelings that anyone can relate to. It gives teens an idea that what they are feeling is normal. It's okay to whether to feel worried about someone liking you back or even feeling jealous. I was hoping Aki would be more honest since she didn't open up as much to others as I hoped her to. While others opened up to her, she couldn't trust anyone. This caused many friendship and relationship issues throughout the book.
Our Own Private
U
niverse
delves into race, interracial relationships and gender/sexuality. Talley writes a novel for people to feel find themselves and to learn about others. I applaud Talley for including safe sex within the novel. Some books don't go into detail about safe sex if sex is ever mentioned in a book. With
Our Own Private Universe
, Talley researched everything so carefully in order to provide accurate information. This is very important for teens who read this book.