Top Ten Tuesday is a weekly meme hosted by
The Broke and the Bookish
. This week's Top Ten Tuesday asks bloggers to blog about their top ten 2017 debuts that they are excited for. Even before the We Need Diverse Books movement, I have always loved to read diverse books. I don't seek to read diverse books for the sake of them being diverse. If the synopsis draws me in, I will read the book. It makes it easier to read more diverse books, however, due to the fact that there are more diverse books readily available now compared to 15 years ago when I was a teenager. The titles are in no particular order.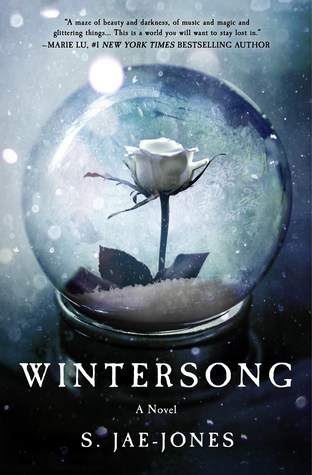 Title:
Wintersong
Author:
S. Jae-Jones
Publisher:
Thomas Dunne
Publication date:
February 7, 2017
Pages:
448
Synopsis (from Goodreads):

Beware the goblin men and the wares they sell.

All her life, nineteen-year-old Liesl has heard tales of the beautiful, mysterious Goblin King. He is the Lord of Mischief, the Ruler Underground, and the muse around which her music is composed. Yet, as Liesl helps shoulder the burden of running her family's inn, her dreams of composition and childish fancies about the Goblin King must be set aside in favor of more practical concerns.

But when her sister Käthe is taken by the goblins, Liesl journeys to their realm to rescue her sister and return her to the world above. The Goblin King agrees to let Käthe go—for a price. The life of a maiden must be given to the land, in accordance with the old laws. A life for a life, he says. Without sacrifice, nothing good can grow. Without death, there can be no rebirth. In exchange for her sister's freedom, Liesl offers her hand in marriage to the Goblin King. He accepts.

Down in the Underground, Liesl discovers that the Goblin King still inspires her—musically, physically, emotionally. Yet even as her talent blossoms, Liesl's life is slowly fading away, the price she paid for becoming the Goblin King's bride. As the two of them grow closer, they must learn just what it is they are each willing to sacrifice: her life, her music, or the end of the world.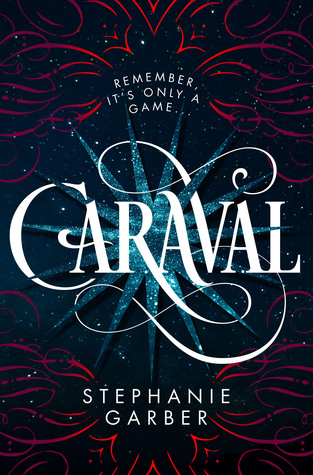 Title:
Caraval
Author:
Stephanie Garber
Publisher:
Flatiron Books
Publication date:
January 31, 2017
Pages:
416
Synopsis (from Goodreads):

Whatever you've heard about Caraval, it doesn't compare to the reality. It's more than just a game or a performance. It's the closest you'll ever find to magic in this world . . .

Welcome, welcome to Caraval—Stephanie Garber's sweeping tale of two sisters who escape their ruthless father when they enter the dangerous intrigue of a legendary game.

Scarlett has never left the tiny island where she and her beloved sister, Tella, live with their powerful, and cruel, father. Now Scarlett's father has arranged a marriage for her, and Scarlett thinks her dreams of seeing Caraval, the far-away, once-a-year performance where the audience participates in the show, are over.

But this year, Scarlett's long-dreamt of invitation finally arrives. With the help of a mysterious sailor, Tella whisks Scarlett away to the show. Only, as soon as they arrive, Tella is kidnapped by Caraval's mastermind organizer, Legend. It turns out that this season's Caraval revolves around Tella, and whoever finds her first is the winner.

Scarlett has been told that everything that happens during Caraval is only an elaborate performance. But she nevertheless becomes enmeshed in a game of love, heartbreak, and magic with the other players in the game. And whether Caraval is real or not, she must find Tella before the five nights of the game are over, a dangerous domino effect of consequences is set off, and her sister disappears forever.
Title:
The Wingsnatchers
Author:
Sarah Jean Horwitz
Publisher:
Algonquin Young Readers
Publication date:
April 25, 2017
Pages:
368
Synopsis (from Goodreads):

A stunning debut about a magician's apprentice and a one-winged princess who must vanquish the mechanical monsters that stalk the streets and threaten the faerie kingdom.

Aspiring inventor and magician's apprentice Felix Carmer III would rather be tinkering with his latest experiments than sawing girls in half on stage, but with Antoine the Amazifier's show a tomato's throw away from going under, Carmer is determined to win the cash prize in the biggest magic competition in Skemantis. When fate throws Carmer across the path of fiery, flightless faerie princess Grit (do not call her Grettifrida), they strike a deal. If Carmer will help Grit investigate a string of faerie disappearances, she'll use her very real magic to give his mechanical illusions a much-needed boost against the competition. But Carmer and Grit soon discover they're not the only duo trying to pair magic with machine – and the combination can be deadly.

In this story perfect for readers of the Lockwood & Co and Wildwood series, Sarah Jean Horwitz takes readers on a thrilling journey through a magical wooded fairyland and steampunk streets where terrifying automata cats lurk in the shadows and a mad scientist's newest mechanical invention might be more menace than miracle.
Title:
You and Me and the End of the World
Author:
Amy McClellan
Publisher:
HarperCollins
Publication date:
2017
Pages:
TBD
Synopsis (from Goodreads):

Debut author Amy McClellan's You and Me and the End of the World is a YA novel pitched as Nick & Norah's Infinite Playlist meets Eleanor and Park . In the book, the fates and hearts of two teen outsiders collide when they meet cute in the dark at a party to end all parties.
Title:
Blood Rose Rebellion
Author:
Rosalyn Eves
Publisher:
Knopf Books for Young Readers
Publication date:
March 28, 2017
Pages:
416
Synopsis (from Goodreads):

The thrilling first book in a YA fantasy trilogy for fans of Red Queen. In a world where social prestige derives from a trifecta of blood, money, and magic, one girl has the ability to break the spell that holds the social order in place.

Sixteen-year-old Anna Arden is barred from society by a defect of blood. Though her family is part of the Luminate, powerful users of magic, she is Barren, unable to perform the simplest spells. Anna would do anything to belong. But her fate takes another course when, after inadvertently breaking her sister's debutante spell—an important chance for a highborn young woman to show her prowess with magic—Anna finds herself exiled to her family's once powerful but now crumbling native Hungary.

Her life might well be over.

In Hungary, Anna discovers that nothing is quite as it seems. Not the people around her, from her aloof cousin Noémi to the fierce and handsome Romani Gábor. Not the society she's known all her life, for discontent with the Luminate is sweeping the land. And not her lack of magic. Isolated from the only world she cares about, Anna still can't seem to stop herself from breaking spells.

As rebellion spreads across the region, Anna's unique ability becomes the catalyst everyone is seeking. In the company of nobles, revolutionaries, and Romanies, Anna must choose: deny her unique power and cling to the life she's always wanted, or embrace her ability and change that world forever.
Title:
Speak of Me as I Am
Author:
Sonia Belasco
Publisher:
Philomel Books
Publication date:
April 4, 2017
Pages:
272
Synopsis (from Goodreads):

A moving story of grief, honesty, and the healing power of art—the ties that bind us together, even when those we love are gone.

Melanie and Damon are both living in the shadow of loss. For Melanie, it's the loss of her larger-than-life mother, taken by cancer well before her time. For Damon, it is the loss of his best friend, Carlos, who chose to kill himself rather than reveal his secret.

Through a staged production of Othello, through the lens of Damon's camera, and through the strokes of Melanie's paintbrush, the two teens find that, rather than moving on from their losses, they can learn to live with their own corners of sadness, especially because they're not doing so alone. And it is only by being honest with themselves that they can begin to find some small bit of peace.

This multi-cultural story shows readers that grief comes in all shapes, sizes, and colors—and that love and pain can bind people together even as they threaten to tear us apart.
Title:
Dare Mighty Things
Author:
Heather Kaczynski
Publisher:
Harper Teen
Publication date: 2017
Pages: TBD
Synopsis (from Goodreads):

HarperTeen has won, at auction, Dare Mighty Things, a duology by Heather Kaczynski, pitched as Contact meets The Selection. Instead of competing for a prince/kingdom, a brilliant Indian-American girl competes to win the last astronaut slot for an experimental mission into space. Publication is planned for 2017.
Title:
Under Rose-Tainted Skies
Author:
Louise Gornall
Publisher:
Clarion Books
Publication date:
January 3, 2017
Pages:
320
Synopsis (from Goodreads):

Norah has agoraphobia and OCD. When groceries are left on the porch, she can't step out to get them. Struggling to snag the bags with a stick, she meets Luke. He's sweet and funny, and he just caught her fishing for groceries. Because of course he did.

Norah can't leave the house, but can she let someone in? As their friendship grows deeper, Norah realizes Luke deserves a normal girl. One who can lie on the front lawn and look up at the stars. One who isn't so screwed up.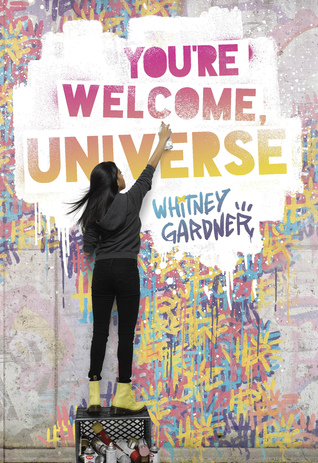 Title:
You're Welcome, Universe
Author:
Whitney Gardner
Publisher:
Knopf
Publication date:
March 7, 2017
Pages:
304
Synopsis (from Goodreads):

A vibrant, edgy, fresh new YA voice for fans of More Happy Than Not and Simon vs. the Homo Sapiens Agenda, packed with interior graffiti.

When Julia finds a slur about her best friend scrawled across the back of the Kingston School for the Deaf, she covers it up with a beautiful (albeit illegal) graffiti mural.

Her supposed best friend snitches, the principal expels her, and her two mothers set Julia up with a one-way ticket to a "mainstream" school in the suburbs, where she's treated like an outcast as the only deaf student. The last thing she has left is her art, and not even Banksy himself could convince her to give that up.

Out in the 'burbs, Julia paints anywhere she can, eager to claim some turf of her own. But Julia soon learns that she might not be the only vandal in town. Someone is adding to her tags, making them better, showing off—and showing Julia up in the process. She expected her art might get painted over by cops. But she never imagined getting dragged into a full-blown graffiti war.

Told with wit and grit by debut author Whitney Gardner, who also provides gorgeous interior illustrations of Julia's graffiti tags, You're Welcome, Universe introduces audiences to a one-of-a-kind protagonist who is unabashedly herself no matter what life throws in her way.
Title:
See What I Have Done
Author:
Sarah Schmidt
Publisher:
Tinder Press
Publication date:
May 2, 2017
Pages:
320
Synopsis (from Goodreads):

Haunting, gripping and gorgeously written, SEE WHAT I HAVE DONE by Sarah Schmidt is a re-imagining of the unsolved American true crime case of the Lizzie Borden murders, for fans of BURIAL RITES and MAKING A MURDERER.

'Eerie and compelling, Sarah Schmidt breathes such life into the terrible, twisted tale of Lizzie Borden and her family, she makes it impossible to look away' Paula Hawkins

When her father and step-mother are found brutally murdered on a summer morning in 1892, Lizzie Borden - thirty two years old and still living at home - immediately becomes a suspect. But after a notorious trial, she is found innocent, and no one is ever convicted of the crime.

Meanwhile, others in the claustrophobic Borden household have their own motives and their own stories to tell: Lizzie's unmarried older sister, a put-upon Irish housemaid, and a boy hired by Lizzie's uncle to take care of a problem.

This unforgettable debut makes you question the truth behind one of the great unsolved mysteries, as well as exploring power, violence and the harsh realities of being a woman in late nineteenth century America.
What debuts are you looking forward to for 2017?