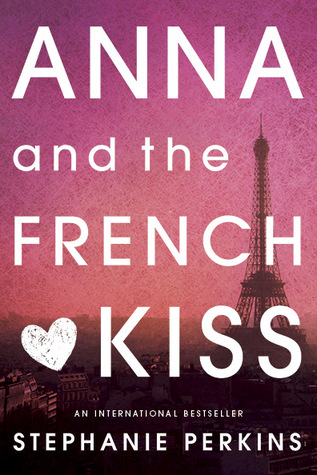 Title:
Anna and the French Kiss
Author:
Stephanie Perkins
Publisher:
Speak; Dutton Juvenile (first)
Publication date:
July 16, 2013
;
December 2, 2010 (first published)
Pages:
372
Source/format:
Paperback, gifted from Melissa at
Novelty Podcast
Rating:
☆☆☆☆
Synopsis (from Goodreads):

Can Anna find love in the City of Light? Anna is happy in Atlanta.

She has a loyal best friend and a crush on her coworker at the movie theater, who is just starting to return her affection. So she's less than thrilled when her father decides to send her to a boarding school in Paris for her senior year.

But despite not speaking a word of French, Anna meets some cool new people, including the handsome Étienne St. Clair, who quickly becomes her best friend. Unfortunately, he's taken —and Anna might be, too. Will a year of romantic near misses end with the French kiss she's waiting for?


My Thoughts:
Stephanie Perkins is an amazing writer. I love her writing style. The only piece I've read by her was her short story in
My True Love Gave to Me
. The first page of the book was the perfect start to Anna attending the School of America in Paris aka SOAP. There she meets Meredith who lives next door. Meredith introduces her to some friends in the circle and that's when Anna is acquainted with Étienne St. Clair. Anna is smitten with him at first sight. Anna can't resist Étienne but Étienne has a girlfriend.
The novel is super cute. I understand how she became to love Étienne overtime but the whole love at first sight sometimes turns me off. I mean, Étienne has a girlfriend. Anna should know not to step over those boundaries even though Étienne keeps flirting with her. And Anna should also be wary about Christopher aka Toph.
However, Anna keeps questioning herself whether if she likes Étienne or Toph. There was one point she wasn't sure if she likes Dave. I was quite upset when she was hanging out with Dave just to piss off Étienne. I think Anna needs to decide who she likes and who she wants to be with. Also, it doesn't help that Étienne secretly likes Anna but is still with Ellie but Étienne and Ellie are having relationship problems. But then again, it doesn't help with Anna's best friend from back home is dating Toph and doesn't tell Anna. There is so much relationship drama in this novel! And there is so much cheating. I am okay with certain love triangles but I am not okay with cheating.
I am glad that Anna found something she likes to do in Paris other than flirting with Étienne day and night. I know at first Paris was overwhelming and intimidating but Anna found the courage to venture out of SOAP. Her love for cinema helped her enjoy the city to it's finest. She loves watching films and reviewing them on her Femme Film Freak website.
I kind of laughed when I found out Matt is Anna's ex-boyfriend. He still cares for her as a friend. It reminds me of Matt Donovan in The Vampire Diaries and how he is still good friends with his ex-girlfriend, Elena Gilbert. I thought it was cute how Anna Oliphant has a nickname of Banana Elephant. I love how Étienne gifted Anna the glass banana bead. He is super thoughtful when it comes to gifts like when he gave her the left handed note book for taking notes for her film reviews.
I was so sad when Étienne found out about his mom having cancer and how his controlling dad wouldn't let Étienne visit his mother. It was heartbreaking. The different family dynamics that Perkins includes in
Anna and the French Kiss
shows readers that families aren't perfect and there are always obstacles that everyone has to face. Running away does not help diffuse the family problems and issues. Anna helped Étienne face his father and to stand up to him!
I am looking forward to reading
Lola and the Boy Next Door
and also
Isla and the Happily Ever After
. I hope they are a tad better than
Anna and the French Kiss
. I thought it was awesome that we get to meet Isla Martin in
Anna and the French Kiss
. I also respect Isla for backing up Anna when Anna had that fight with Amanda. I cannot wait to read more about Isla and her happily ever after.