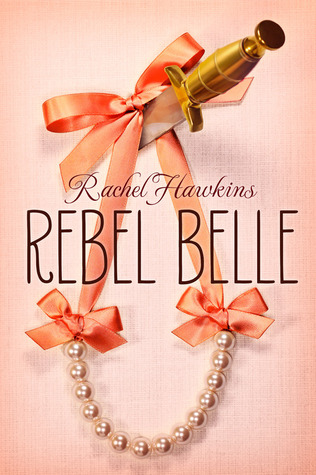 Title:
Rebel Belle
Author:
Rachel Hawkins
Publisher:
Putnam Juvenile
Publication date:
April 8, 2014
Pages:
345
Source/format:
Hardcover, Purchased
Rating:
☆☆☆
1/2
Synopsis (from Goodreads):

Harper Price, peerless Southern belle, was born ready for a Homecoming tiara. But after a strange run-in at the dance imbues her with incredible abilities, Harper's destiny takes a turn for the seriously weird. She becomes a Paladin, one of an ancient line of guardians with agility, super strength and lethal fighting instincts.

Just when life can't get any more disastrously crazy, Harper finds out who she's charged to protect: David Stark, school reporter, subject of a mysterious prophecy and possibly Harper's least favorite person. But things get complicated when Harper starts falling for him—and discovers that David's own fate could very well be to destroy Earth.

With snappy banter, cotillion dresses, non-stop action and a touch of magic, this new young adult series from bestseller Rachel Hawkins is going to make y'all beg for more.


My Thoughts:
Harper Jane Price is a southern girl attending Grove Academy in Pine Grove, Alabama. She is living her normal life as president of the SGA and head cheerleader. She hopes to be crowned Homecoming Queen. However, life as a teenage girl is difficult when she obtains powers of the Paladin. The janitor, Mr. Hall, dies right after she obtains her powers and her history teacher is trying to kill her on the day of Homecoming. Even though Harper becomes Homecoming Queen, she has other things on her mind.
Harper finds out she is a Paladin who has to protect the Oracle. Unfortunately for Harper, the Oracle happens to be her nemesis, David James Stark. I laughed when I read the name David James Stark. It reminded me of James Stark from
The House of Night series
. People are out there trying to kill David because he is a male Oracle. Most Oracles are female. Harper and David are living a dangerous life and trying to avoid being killed.
I love reading about the Cotillion. Even though my high school has an annual Cotillion, it's not as intense as Grove Academy's. However, I can relate to Harper about how Cotillion is super important and it has to be almost perfect.
I love the idea of having this kick ass female guardian in a private academy setting. It reminds me of
Vampire Academy
of how Rose is Lissa's guardian and needs to protect her at all costs. The Mages who work with the Paladins and the Oracle remind me of the Alchemists who conceal any crazy shenanigans that have to do with the Paladins and the Oracle from mundanes.
The word choice for the teenager dialogue could be a bit better. I felt like the way Harper and Blythe talk to one another is not what 17-year-olds would say. I expected them to be a bit more mature. I do have to admit that
Rebel Belle
is pretty hilarious. I was laughing most of them time when I was reading. It wasn't up to par with the
Hex Hall series
though. Maybe I had high expectations since the Hex Hall series is pretty amazing.