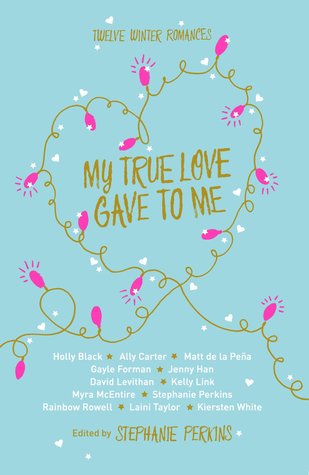 Title:
My True Love Gave to Me: Twelve Holiday Stories
Authors:
Holly Black, Ally Carter, Matt de la Peña, Gayle Forman, Jenny Han, David Levithan, Kelly Link, Myra McEntire, Stephanie Perkins, Rainbow Rowell, Laini Taylor and Kiersten White
Publisher:
St. Martin's Press (US) and Macmillan (UK)
Publication date:
October 14, 2014 (US) and October 9, 2014 (UK)
Pages:
320 (US) and 335 (UK)
Source/format:
Purchased, Hardcover
Rating:
☆☆☆☆
Synopsis (from Goodreads):

US version: If you love holiday stories, holiday movies, made-for-TV-holiday specials, holiday episodes of your favorite sitcoms and, especially, if you love holiday anthologies, you're going to fall in love with MY TRUE LOVE GAVE TO ME: TWELVE HOLIDAY STORIES by twelve bestselling young adult writers, edited by international bestselling author Stephanie Perkins.
Midnights by Rainbow Rowell
I love this story. It's so simple yet relatable and realistic. I enjoyed reading about Mags and Noel and how their friendship blossomed every New Year's Eve. I think it's cute how Rainbow shows us three years of friendship in three days. The story reminds me a bit of
Landline
, a bit of
Eleanor & Park
and a bit of
Fangirl.
Rainbow Rowell is the queen of contemporary! The story is just that good!
Rating: 5/5
The Lady and the Fox by Kelly Link
I didn't really enjoy this story. It wasn't super horrible but I couldn't connect with any of the characters and I couldn't get into the story.
Rating: 2/5
Angels in the Snow by Matt de la Peña
I like Matt de la Peña's writing style in this story. The way he tells the story through first person works very well. I love how Shy and Haley meet. It's cute how Shy and Haley share stories about themselves to get to know each other better but the only thing that put me off was the cheating in the story since Haley didn't break off her relationship with Justin until the end of the story.
Rating 4/5
Polaris is Where You Will Find Me by Jenny Han
I laughed when I read about the Great Hall. All I can think of is Harry Potter. I think it's cute how Natalie is adopted by Santa and how she gets to travel with him in the sleigh while he works. I loved this story about Natalie and how Flynn doesn't want to get hurt. He would basically do anything for Natalie. I just wished the story was a tad bit longer.
Rating: 4.5/5
It's a Yuletide Miracle, Charlie Brown by Stephanie Perkins
Marigold is interested in Christmas Tree Lot Boy aka North Drummond. He is everything opposite of the boys she is usually attracted to. But ultimately she needed his voice. She needed his help with her YouTube comedic animated short films. But of course Marigold plays it off saying she is just looking for a tree and not any tree but a Charlie Brown tree. I thought it was so cute how North and Marigold interacted. It was adorable and heart warming. It turns out that Marigold likes North more than just for his voice.
Rating: 5/5
Your Temporary Santa by David Levithan
I think it's so cute how Connor say Pweeeeeease. The story was just okay. I wanted more interaction between the two boys. Maybe some more dialogue.
Rating: 3/5
Krampuslauf by Holly Black
All I can think of is Harry Potter when I read the part about the cloak, crystal balls and magical potion. The whole Krampus part of the story still confused me even after I read the story but I loved when Oscar snorted with laughter and said, "That is Harry Potter shit." The wishing for magic on the wish list is pretty crazy. Anything is possible.
Rating: 3.5/5
What the Hell Have You Done, Sophie Roth? by Gayle Forman
I love the writing style of this story. The story actually reminds me of being back in college. I laughed at the part how Sophie argued with the bookstore clerk about how textbooks should go digital and should be updated automatically. I think we all know that the selling your books back to the bookstore is a rip off. Sophie's interaction with Russell is genuine. It's so cute how they meet at the caroling concert and get pie and coffee at a diner. I love how Russell celebrated the last day of Hanukkah with Sophie even though she is not home with her family. The ending was perfect too! Loved it!
Rating: 4.5/5
Beer Buckets and Baby Jesus by Myra McEntire
I was sucked into the story the second I read the first line. Vaughn is your typical trickster who ends up in trouble. He has to do community service and ends up helping with the Christmas pageant. There he gets to know Gracie Robinson, the Pastor's daughter. She is everything completely opposite from him. This actually reminded me of
A Walk to Remember
and how Landon ends meeting Jamie, the minister's daughter, and they participated in
The Christmas Angel
. This story was cute.
Rating: 4/5
Welcome to Christmas, CA by Kiersten White
I like how we are introduced to a small town named Christmas and how Maria works at a cafe/diner in the town. Maria meets the new cook, Ben, who is genuinely nice and makes a mean gingerbread cookie. Ben is seriously whipping up some yummy foods and my mouth was watering when I was reading this story. I really want to try some of those eggnog chocolate chip cookies. I also enjoyed reading about Maria's mom and the mom's boyfriend. The relationship that Maria has with her mom is quite special and I thought it was sweet when Maria asked Ben to help her make rice pudding for her mom. I loved how this story was all about giving.
Rating: 4.5/5
Star of Bethlehem by Ally Carter
This story is so cute. I love how Lydia and Hulda switch plane tickets near the holidays. One ends up in New York and the other in Oklahoma. I don't want to spoil the story but it's the perfect holiday story about a girl finding a new family who loves her very much. I wish there was a bit more romance though.
Rating 4/5
The Girl Who Woke the Dreamer by Laini Taylor
I did not like this story. I couldn't get into it and the writing style was not my cup of tea.
Rating 2/5
Overall
I loved reading these short stories during the holidays. It's perfect for when I want to only read a small amount of pages per day. It was easy to pace myself to read all the stories and the best time to read them is during the last two weeks of December. I actually just finished reading the whole anthology today which is perfect. I loved how each story is different and how many of the stories including diversity of all sorts.