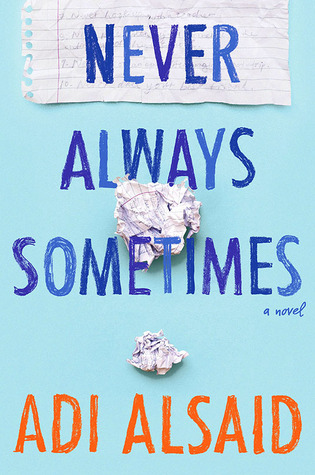 Title:
Never Always Sometimes
Author:
Adi Alsaid
Publisher:
Harlequin Teen
Publication date:
August 4, 2015
Pages:
320
Source/format:
ARC from NAS ARC Hop
Rating:
☆☆☆
☆

Synopsis (from Goodreads.com):

Never date your best friend
Always be original
Sometimes rules are meant to be broken

Best friends Dave and Julia were determined to never be cliché high school kids—the ones who sit at the same lunch table every day, dissecting the drama from homeroom and plotting their campaigns for prom king and queen. They even wrote their own Never List of everything they vowed they'd never, ever do in high school.

Some of the rules have been easy to follow, like #5, never die your hair a color of the rainbow, or #7, never hook up with a teacher. But Dave has a secret: he's broken rule #8, never pine silently after someone for the entirety of high school. It's either that or break rule #10, never date your best friend. Dave has loved Julia for as long as he can remember.

Julia is beautiful, wild and impetuous. So when she suggests they do every Never on the list, Dave is happy to play along. He even dyes his hair an unfortunate shade of green. It starts as a joke, but then a funny thing happens: Dave and Julia discover that by skipping the clichés, they've actually been missing out on high school. And maybe even on love.
My Thoughts
I've read Adi Alsaid's debut
Let's Get Lost
and wasn't super blown away with it. However, I was super excited to read
Never Always Sometimes
and when Alsaid mentioned about an ARC hop, I jumped on board. Instead of just having ARCs float around the country, Alsaid wanted a way to bring readers together. Alsaid decided to have send ARCs to readers where we share a bit of ourselves with each other. That's right, Alsaid lets bloggers vandalize his ARCs! It's a way for everyone who reads
Never Always Sometimes
to connect with the previous readers and to leave notes for the next reader. For more information about the
Never Sometimes Always
ARC Hop, please check it out
here
.
Never Always Sometimes
is such a sweet book about two friends David (Dave) and Julia who live in San Luis Obispo, Califronia. The day before high school starts, they make a list of high school clichés that they will never do called The Nevers aka Dave and Julia's Guide to an Original High School Experience.
Almost four years later pass by and it is getting hard to avoid some of the items listed on The Nevers. Dave suggested doing the list and Julia finally agrees. As Julia's mom puts it, there is "no point of living a life less ordinary if you don't know what the other side looks like" (ARC, page 99). Dave and Julia cross things off The Never list like dyeing their hair a color found in a rainbow or go on an epic "life changing" road trip. These clichés bring Dave and Julia closer than ever before.
This book is a cute read about a friendship between a boy and a girl. It's about the journey of enjoying the moment and doing something spontaneous. Dave and Julia enjoy each other's company and they are pretty much inseparable. I love the humor Alsaid includes in this book. Dave and Julia are likable characters. The things they say are hilarious. I was laughing so much at the ridiculous things Dave and Julia did throughout the book. They have guts! I would never in my life do most of the things on The Nevers list. FYI, this book has unrequited love and cheating. Although, I do not like cheating in books I read, the outcome of the actions are realistic.
I love how at the end of the book, Dave and Julia create The Always list for clichés they should embark on in college. Although the novel takes place during the academic year,
Never Always Sometimes
makes a great summer read. I highly recommend this novel if you are looking for a endearing contemporary.