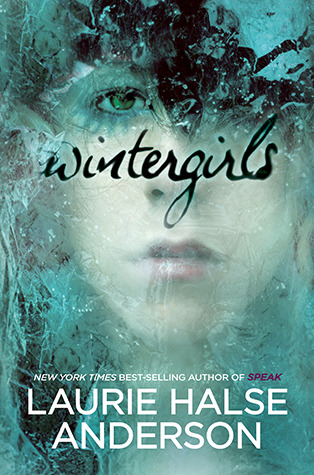 Title:
Wintergirls
Author:
Laurie Halse Anderson
Publisher:
Viking Books for Young Readers
Publication date:
March 19, 2009
Pages:
278
Source/format:
Hardcover gifted by Nicole from
The Book Bandit
Rating:
☆☆☆
☆
Synopsis (from Goodreads.com):

"Dead girl walking", the boys say in the halls.
"Tell us your secret", the girls whisper, one toilet to another.
I am that girl.
I am the space between my thighs, daylight shining through.
I am the bones they want, wired on a porcelain frame.

Lia and Cassie are best friends, wintergirls frozen in matchstick bodies, competitors in a deadly contest to see who can be the skinniest. But what comes after size zero and size double-zero? When Cassie succumbs to the demons within, Lia feels she is being haunted by her friend's restless spirit.

Laurie Halse Anderson explores Lia's descent into the powerful vortex of anorexia, and her painful path toward recovery.
MyThoughts
Wintergirls
is a difficult book to read at times because of the content of the book. Laurie Halse Anderson writes about heavy topics and in this novel, she writes about eating disorders. In
Wintergirls
, Lia finds out her friend Cassie passed away in a motel room all alone. Both girls have eating disorders. Lia believes it is her fault that Cassie died due to the fact that Cassie called Lia thirty-three times and Lia failed to answer multiple calls. Was this a call for help? Was it Lia's fault that Cassie died? Does Lia need to continue wasting away in order to fulfill their pact?
Wintergirls
is a chilling yet powerful book about teens facing issues about self-image. Anorexia, bulimia and the struggle of acceptance can be a daily things teens have to overcome. Anderson's description of words is haunting! I had goosebumps when I read some of the descriptions of Lia's visions and dreams. Lia feels in control when she can count how many calories she consumes. Cassie's death definitely triggered Lia to struggle more with her self-image. This control over what Lia eats is much more than a physical starvation. She psychologically believes that she is not good enough and that there are certain qualities to make the "perfect" Lia. It doesn't help when peers at school are bullying both Lia and Cassie. Lia strives for what she thinks is best for her but sometimes her vision blurs and she's not sure what is right for her. I found it creepy when Cassie would materialize in front of Lia reminding Lia of what Cassie has become. The way Anderson incorporates Lia's thinking process was quite interesting. The repeating of certain lines and the strikeouts definitely emphasized certain thoughts Lia has running though her mind.
It's hard for Lia to overcome her eating disorder especially if her parents are not together anymore and how she has a stepmother. Lia has never been close with her mother and at times there is tension at home when both Lia's mother and step mother are involved either in conversation or if they are in the same house together. It is interesting to see how Lia's father approaches Lia compared her Lia's mother. Lia's father, in my opinion, supported Lia and her struggle in a better way than Lia's mother.
Wintergirls
may not be a book for everyone but if you are interested in picking up a realistic contemporary about a realistic teen issue, definitely check this out. However, I would not recommend this book for people who are recovering from a eating disorder in fear that it may trigger a relapse or an emotional meltdown.