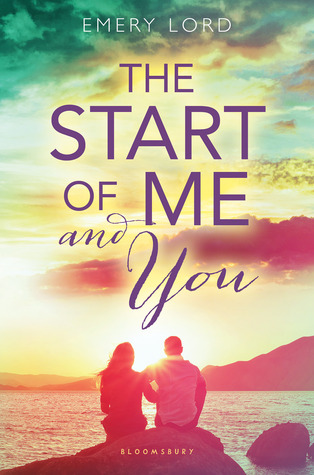 Title:
The Start of Me and You
Author:
Emery Lord
Publisher:
Bloomsbury
Publication date:
March 31, 2015
Pages:
384
Source/format:
ARC from
The Quiet Concert
Rating:
☆☆☆
☆
☆
Synopsis (from Goodreads.com):

Following her pitch-perfect debut Open Road Summer, Emery Lord pens another gorgeous story of best friends, new love, & second chances.

Brimming with heartfelt relationships and authentic high-school dynamics The Start of Me and You proves that it's never too late for second chances.

It's been a year since it happened—when Paige Hancock's first boyfriend died in an accident. After shutting out the world for two years, Paige is finally ready for a second chance at high school . . . and she has a plan. First: Get her old crush, Ryan Chase, to date her—the perfect way to convince everyone she's back to normal. Next: Join a club—simple, it's high school after all. But when Ryan's sweet, nerdy cousin, Max, moves to town and recruits Paige for the Quiz Bowl team (of all things!) her perfect plan is thrown for a serious loop. Will Paige be able to face her fears and finally open herself up to the life she was meant to live?




My Thoughts
Paige Hancock is still trying to keep her mind off her boyfriend who died a year ago. Because she lives in a small town everyone refers to her as the "Girl Whose Boyfriend Drowned." Paige is trying to see past the death and to move on with her life. Her friends Kayleigh, Morgan and Tessa provide healthy female friendships to keep Paige afloat. Life doesn't get easier when her divorced parents are starting to date again. At least there is Paige's crush, Ryan Chase, to look forward to. Well that is until she meets Max Watson.
I love Paige's How to Begin Again list of tasks she wants to do. The list not only keeps her focused on her future but it also keeps her mind off of Aaron. Paige needs to move forward and not backwards.
Emery Lord's writing is addicting. The romance is perfect in The Start of Me and You. There is no instalove. The romance is a slow burning one which is definitely my type of romance even though it took awhile for Paige to realize her true feelings. I enjoyed reading the bonding over literary references and Do-Si-Dos that she and Max shares. Lord explores different family dynamics including families with divorced parents and parents who are hardly home. The friendships Paige has with her core group of girls is remarkable. She has a powerful sisterhood and each female has each other's back. They are supportive of each other which is important in positive friendships. The friendship she has with Ryan and Max is different but is equally as important.
The English curriculum is on point in this novel. It definitely brought back memories from when I was a high school junior. Ms. Pepper wants her students to learn and to also get more out of life. She prefers her students to engage with others and to step out of their comfort zone. QuizBowl is one activity Paige decides to engage in during her extra time and it is definitely a good decision. Without Paige stepping out of her comfort zone, her friendship with Max would not be the same.

The ending is perfection! I wouldn't have it any other way. I won't spoil the ending here but let's say that if you are looking for a cute romantic contemporary, you definitely want to read this book. You won't regret it!