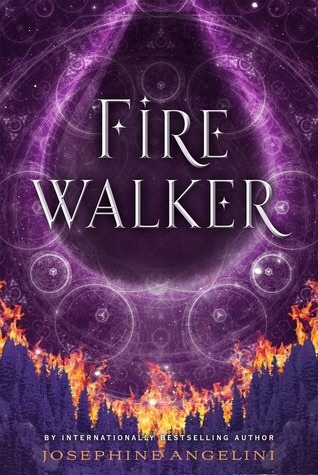 Title:
Firewalker
Author:
Josephine Angelini
Publisher:
Feiwel & Friends
Publication date:
September 1, 2015
Pages:
352
Source/format:
ARC from BEA 2015
Rating:
☆☆☆
☆
Synopsis (from Goodreads.com):

Worlds divide, magic slays, and love lies in the second book of Josephine Angelini's The Worldwalker Trilogy.

"You think I'm a monster, but my choices, as ruthless as they seem, are justified."

Lily is back in her own universe, and she's ready to start a new life with Rowan by her side. True, she almost died in the Pyre that fueled their escape from New Salem, and must hide her magic for the safety of everyone she cares about, but compared to fighting the Woven, the monstrous creatures inhabiting the alternate Salem, life is looking pretty good.

Unfortunately, Lillian, ruthless ruler of the 13 Cities, is not willing to let Lily go that easily. If she can't persuade Lily to return to her world, she will force her to come back by doing away with the ones she loves.

Picking up right where Trial By Fire left off, Firewalker is another sexy, fast-paced, heartbreaking thrill ride from internationally bestselling author Josephine Angelini!




My Thoughts
"Love is being willing to become the villain so that the one you love can stay a hero." - Page 245, ARC of Firewalker
Firewalker,
the second installment of
The Worldwalker series
, picks up right where
Trial by Fire
left off. Lily Proctor is transported back to her Salem and severely injured along with Rowan. Lily has been missing for three months and everyone is frantic when she returns back home. Her mother has a sense of where Lily went but everyone thinks she is crazy. Even though Lily is transported home, Lily still "meets" with Lillian. Lillian is so desperate to get Lily to return back to the alternate Salem that she will do almost anything to get Lily to world jump. In
Firewalker
readers will discover more about Lillian's secrets as she shows them to Lily.
Angelini does a fantastic job weaving fantasy elements and historical fiction elements to create a magical historical fantasy. Even though it's not true historical fiction, the world building is phenomenal and I feel like I am transported into magical world in the past. The characters are rich and I was sucked into the story right from the beginning of the book. I am glad Angelini didn't add a huge time gap between
Trial by Fire
and
Firewalker
. Angelini incorporates some science into
Firewalker
which I love! Magic is science and witches can transmute energy and matter. It's pretty interesting to read about. Also, what is there not to love about parallel worlds. I find it intriguing to read about Lily's world compared to Lillian's world.
It's interesting to see Lily re-adjust to her dimension of Salem and for Rowan to absorb everything in Lily's world. Rowan is a quick learner and is adamant to heal Lily and to make sure Lily's family is okay. I was a bit hesitate when a few characters are willing to become mechanics so fast. I figured they would think about it a bit longer since the idea of witches and mechanics are unheard of in Lily's world. Having a witch claim a willstone is something that is not thought of lightly. And the whole scene with Carrick and everyone willing to world jump in an instant should have been thought out more carefully. It didn't seem realistic that Lily's friends would be willing to sacrifice their own lives for her's and didn't give any thought about their families. The love triangle cannot be avoided but at least it's civil for the most part. There is reason why Lily sways from guy to guy but last half of the book is absolutely heartbreaking.
Like in the first book,
Firewalker
shows ethnic and socio-economic diversity. Although it is not the central focus of the plot, it shapes the plot. There is so much emphasize on friendship and trust in
Firewalker.
You never know when someone will betray you. I still don't know who to trust at times. Hopefully, my allegiance will be cemented when I read
Traitor's Pyre
. The third book in the series has such a fitting name! If you are looking for a heartbreaking historical fantasy with science, magic and romance, check out The Worldwalker series.