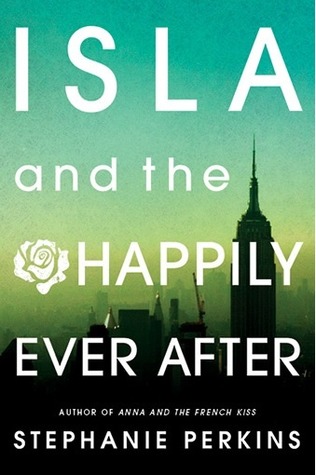 Title:
Isla and the Happily Ever After
Author:
Stephanie Perkins
Publisher:
Dutton
Publication date:
August 14, 2014
Pages:
339
Source/format:
Hardcover from
Molly from Cherry Blossoms & Maple Syrup
Rating:
☆☆☆
☆
☆
Synopsis (from Goodreads.com):

Love ignites in the City That Never Sleeps, but can it last?

Hopeless romantic Isla has had a crush on introspective cartoonist Josh since their first year at the School of America in Paris. And after a chance encounter in Manhattan over the summer, romance might be closer than Isla imagined. But as they begin their senior year back in France, Isla and Josh are forced to confront the challenges every young couple must face, including family drama, uncertainty about their college futures, and the very real possibility of being apart.

Featuring cameos from fan-favorites Anna, Étienne, Lola, and Cricket, this sweet and sexy story of true love—set against the stunning backdrops of New York City, Paris, and Barcelona—is a swoonworthy conclusion to Stephanie Perkins's beloved series.
My Thoughts
After reading
Anna and the French Kiss
and
Lola and the Boy Next Door
, I couldn't wait to get my hands on
Isla and the Happily Ever After
. Isla is first introduced in
Anna and the French Kiss
and now she has her very own novel. Isla Martin has been crushing on Josh Wasserstein for years but always held back because Josh had a girlfriend. Isla bumps into him at a café in Manhattan, New York City before school starts and catches up with him. I think it is cute how she has been pining him for years but I did find it a bit stalkerish when she wanted to see if he returned to the café day after day. Isla and Josh are both seniors in high school at a boarding school in France. She even researches more about him online and even ends up living in his previous room at the residence hall at the School of America in Paris.
I enjoy reading about how Isla and Josh become a couple. Reading about how Isla and Josh interlace each others' fingers and how they are completely honest with each other is part of the journey. I absolutely love how Josh is creative, artistic and doesn't care about what others think about him. Although Perkins conveyed romance quite well in this novel, Perkins also touches upon strong friendships. Isla is good friends Kurt Donald Cobain Bacon. Kurt is the rational one. He helps Isla figure out what she should do when she doubts herself. I definitely love how Perkins includes a reference to Kurt Cobain in the novel. And of course, I was excited to read about the Harry Potter reference.
I cried when I read this book. It's full of love, heartbreak, drama and so much more. Perkins captures what it means to be in love so perfectly.
Isla and the Happily Ever After
echoes
To All the Boys I've Loved Before
and
P.S. I Still Love You
, both by Jenny Han. Gen reminds me of Margot and Hattie definitely reminds me of Kitty. The sisterly bonding is very similar to
To All the Boys I've Before
. I find it interesting that the youngest sister in both books impulsively sends something in the mail which leads to happy endings for Isla and Laura Jean.
Although Anna, Lola and Isla are interconnected, they are unique and they carry themselves differently. I love the cameos of characters from
Anna and the French Kiss
and
Lola and the Boy Next Door.
It definitely made the book more special. The novel is full of emotions. I was riding a roller coaster. Isla and Josh are meant to be and to read about their journey about good and bad times is important. Work hard for what you want! Don't give up! Anything is possible! Isla and Josh Forever!