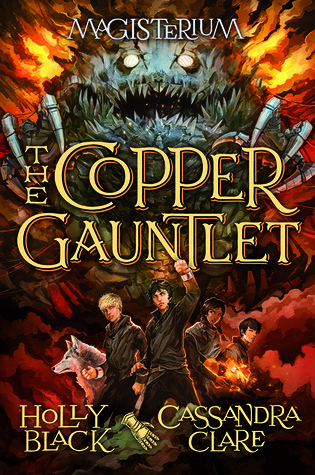 Title:
The Copper Gauntlet
Author:
Holly Black and Cassandra Clare
Publisher:
Scholastic
Publication date:
September 1, 2015
Pages:
304
Source/format:
ARC from BEA 2015
Rating:
☆☆☆
☆
Synopsis (from Goodreads.com):

Callum Hunt's summer break isn't like other kids'. His closest companion is a Chaos-ridden wolf, Havoc. His father suspects him of being secretly evil. And, of course, most kids aren't heading back to the magical world of the Magisterium in the fall.

It's not easy for Call . . . and it gets even harder after he checks out his basement and discovers that his dad might be trying to destroy both him and Havoc.

Call escapes to the Magisterium -- but things only intensify there. The Alkahest -- a copper gauntlet capable of separating certain magicians from their magic -- has been stolen. And in their search to discover the culprit, Call and his friends Aaron and Tamara awaken the attention of some very dangerous foes -- and get closer to an even more dangerous truth.

As the mysteries of the Magisterium deepen and widen, bestselling authors Holly Black and Cassandra Clare take readers on an extraordinary journey through one boy's conflict -- and a whole world's fate.


My Thoughts
Callum Hunt is back at home with his father Alastair. He discovered shocking news about who he is at the end of
The Iron Trial
and is trying to figure out what to make of it. Everyone is out to kill the Enemy and Callum is trying to figure out who to trust. When I first read
The Iron Trial
, I couldn't wait for
The Copper Gauntlet
. Holly Black and Cassandra Clare crafted a Middle Grade series with adventure, magic, suspense and with a little bit of humor. The twist is the main character is not the chosen one. The Alkhahest, a copper gauntlet, is missing and if under the wrong hands, chaos will occur. Call, Aaron and Tamara are trying to stop the Alkhahest falling in the wrong hands or the Makar will die.
Callum, Aaron and Tamara start their copper year aka second year at the Magisterium. They are still trying to hone their skills as a Mage. Once a Mage learns to controls the elements, they are able to graduate from the Magisterium. The pace in
The Copper Gauntlet
moves consistently and I enjoyed this installment more than the first. The first book was more about laying out the foundation of the series. The second book is more about Call learning about who he is and what he can become. He harbors a secret very few people know about. He doubts himself a lot but proves that he can overcome anything. Chaos magic is discussed more in detail throughout this novel. Friendship and trust is super important and it's interesting to see how each character approaches what friendship truly means to them. Trust is tested and it's intriguing to see what each character is hiding from each other. Everything unfolds at the end and everyone thinks the Enemy of Death is dead but of course they cannot outrun the Enemy.
One of my favorite characters is Call's pet chaos-ridden wolf, Havoc. Even though he is not a main character in the series, he is an important asset to the group.
The Copper Gauntlet
is a fun Middle grade read for all ages. I highly recommend the Magisterium series for readers who enjoy the Harry Potter series and books written by Rick Riordan. I can't wait to pick up
The Bronze Key
.