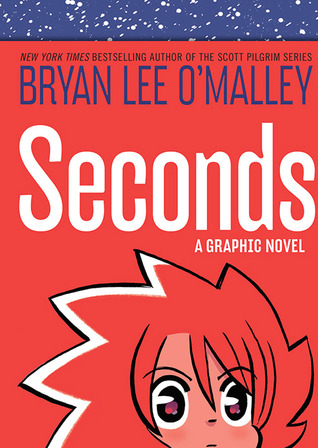 Author:
Bryan Lee O'Malley
Publisher:
Ballantine Books
Publication date:
July 15, 2014
Source/format:
Library, har

dcover

Synopsis (from

G

oodreads):
#1 NEW YORK TIMES BESTSELLER
The highly anticipated new standalone full-color graphic novel from Bryan Lee O'Malley, author and artist of the hugely bestselling Scott Pilgrim graphic novel series
Katie's got it pretty good. She's a talented young chef, she runs a successful restaurant, and she has big plans to open an even better one. Then, all at once, progress on the new location bogs down, her charming ex-boyfriend pops up, her fling with another chef goes sour, and her best waitress gets badly hurt. And just like that, Katie's life goes from pretty good to not so much. What she needs is a second chance. Everybody deserves one, after all—but they don't come easy. Luckily for Katie, a mysterious girl appears in the middle of the night with simple instructions for a do-it-yourself do-over:
1. Write your mistake
2. Ingest one mushroom
3. Go to sleep
4. Wake anew
And just like that, all the bad stuff never happened, and Katie is given another chance to get things right. She's also got a dresser drawer full of magical mushrooms—and an irresistible urge to make her life not just good, but perfect. Too bad it's against the rules. But Katie doesn't care about the rules—and she's about to discover the unintended consequences of the best intentions.
From the mind and pen behind the acclaimed Scott Pilgrim series comes a madcap new tale of existential angst, everyday obstacles, young love, and ancient spirits that's sharp-witted and tenderhearted, whimsical and wise.
My Thoughts:
Katie is a chef at Seconds and wants to own her own restaurant. She plans to open a restaurant called Katie's but the remodeling is taking a bit longer than she would like. A lot of things in her life is going poorly and Katie gets second chance to make things right. Lis, the house spirit, the very one Hazel has been caring for every night, has warned Katie she is allowed only one mushroom for one change. However, Katie doesn't listen to Lis.
Soon enough, Katie is obsessed in changing every aspect of her life. Of course some of these changes have consequences. Changing aspects of her life has changed aspects of the universe and other people's lives. This constant changing has angered Lis.
Because Katie keeps changing every moment of her life, she soon lets in something bad into the world. All I could think of was Homura Akemi from Madoka Magica when she travels back in time over and over again to save Madoka Kaname. Also, Katie's witch reminds me of Homura's witch. When Katie finally learns to accept with what she has, the entity she brought upon the world becomes harmless. Katie is happy with her life and doesn't crave the need to change it anymore.
I love how Katie is in her 20's and that she is a chef. I am also in my 20's and I am such a foodie. The house spirit magical portion of this graphic novel is pretty cool. But everyone knows that there are consequences when you change the past, present or future. This is a fun read. O'Malley caught my attention from the first page. The writing is fun and the drawings are nice and colorful. The formatting of the panels is simple and everything flowed pretty well. I also love the dust jacket and the naked book art. Both are stunning! I love the contrast of the colors!
I have not read any of O'Malley's Scott Pilgrim graphic novels but I think I might pick up a couple in the near future.