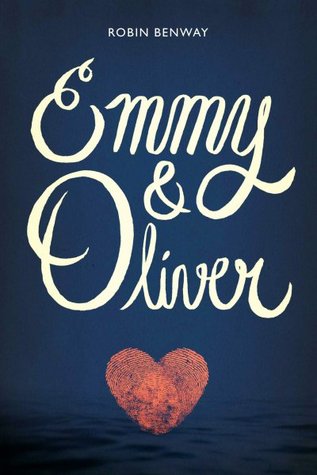 Title:
Emmy & Oliver
Author:
Robin Benway
Publisher:
HarperTeen
Publication date:
June 23, 2015
Pages:
352
Source/format:
Purchased // e-book
Rating:
☆☆☆
☆
☆
Synopsis (from goodreads.com):

Emmy's best friend, Oliver, reappears after being kidnapped by his father ten years ago. Emmy hopes to pick up their relationship right where it left off. Are they destined to be together? Or has fate irreparably driven them apart?

Emmy just wants to be in charge of her own life.

She wants to stay out late, surf her favorite beach—go anywhere without her parents' relentless worrying. But Emmy's parents can't seem to let her grow up—not since the day Oliver disappeared.

Oliver needs a moment to figure out his heart.

He'd thought, all these years, that his dad was the good guy. He never knew that it was his father who kidnapped him and kept him on the run. Discovering it, and finding himself returned to his old hometown, all at once, has his heart racing and his thoughts swirling.

Emmy and Oliver were going to be best friends forever, or maybe even more, before their futures were ripped apart. In Emmy's soul, despite the space and time between them, their connection has never been severed. But is their story still written in the stars? Or are their hearts like the pieces of two different puzzles—impossible to fit together?

Readers who love Sarah Dessen will tear through these pages with hearts in throats as Emmy and Oliver struggle to face the messy, confusing consequences of Oliver's father's crime. Full of romance, coming-of-age emotion, and heartache, these two equally compelling characters create an unforgettable story.


My Thoughts
Emmy and Oliver are neighbors and best friends until one day Oliver never returned home. Ten years later, Oliver returns home and is confused about his life. At first everyone tells Emmy that Oliver needs space but then all of a sudden, they want her to hang out with Oliver. Emmy takes him under her wing and helps him adjust to his new life.
Both Emmy and Oliver are trying to figure out each other since there has been a ten year gap within their friendship. It must be hard for Oliver to come back home to find that he has a step dad and two half-sisters. Also, when Oliver is in New York, he goes by Colin. When he returns to California, everyone calls him Oliver. No wonder he is confused. It doesn't help that news reporters are always trying to set up a televised interview and how he is trying to find out who he is in peace. I found it refreshing that Emmy takes Oliver surfing. Although Emmy keeps surfing a secret from her parents, she feels like surfing would help Oliver break through his shell. Oliver hasn't had much fun for a long time and he does admit that he enjoys surfing even though he has a hard time learning.
I love how Caro and Drew are always there for Emmy. Caro and Drew are the perfect best friends one can ask for. Robin Benway writes about parents realistically. The parents care about their children and the relationship between parent and child is authentic. It's nice to read about supportive people in a teen's life. Also, I love how Emmy and Oliver continue their relationship from where they left off. Even though it takes awhile for Oliver to adjust to the new changes, he seems the happiest when he is with Emmy. There is no instalove which is great. The slow burning romance is perfect!
Benway does an excellent job with the different struggles teens deal with. Emmy's parents don't approve her doing certain things like surfing and is very strict about the curfew. Drew is struggling with figuring out his self and having his family accepting who he is. Caro receives little attention from her parents since she is one out of six children. Oliver doesn't learn he was kidnapped until he returned back to California. He is learning to adjust to life before New York. His mother is remarried and he has two half sisters. The variety of different family dynamics definitely will appease to readers.
Emmy & Oliver
is honest coming-of-age novel about friendship, love, family and trust. I definitely recommend this novel for those who enjoy reading YA contemporary.