Chinese New Year, also known as the Spring Festival or Lunar New Year, is one of the most important holidays my family and I celebrate. The celebration traditionally lasts 15 days. The first day of the new year varies year to year since it follows the lunar calendar and is usually in January or February. This year is the Year of the Monkey and specifically, the Red Monkey or the Fire Monkey.
Image from freepik.com
In celebration of Chinese New Year, check out below for some of my favorite reads that involve Chinese characters and/or culture
.
1.
The Joy Luck Club by Amy Tan
is a book I read back in high school. Four women meet to play Mah Jong and form The Joy Luck Club. You hear them tell their stories of their lives. Forty years later, one of the members has passed and her daughter along with the other members' daughters reconnect and join a new generation of The Joy Luck Club.
2.
Chinese Cinderella: The True Story of an Unwanted Daughter by Adeline Yen Mah
is a coming-of-age story about a Chinese girl in the 1940's. Adeline family considers her bad luck after her mother dies giving birth to her. Her father remarries and life is difficult with the stepmother and stepsiblings.
3.
Snow Flower and the Secret Fan by Lisa See
is about two girls living in nineteenth-century China. Lily and Snow Flower have a strong life-long friendship as laotongs and communicate with the secret language of the fan.
4.
Under A Painted Sky by Stacey Lee
is about Samantha in which her dad has she passed in a tragic accident in 1849, Missouri.. With the help of Annamae, Samantha flees to the California on the Oregon Trial while encountering new friends and learning to survive.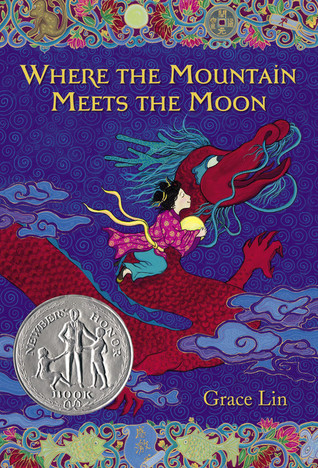 5.
Shanghai Girls by Lisa See
is a novel about two sisters, Pearl and May, who are sold as wives by their father to pay for a gambling debt in 1937 China. The sisters find their way from China to Los Angeles, California to start their new lives.
6.
The Woman Warrior: Memoirs of a Girlhood Among Ghosts by Maxine Hong Kingston
is about a
Chinese American woman who tells Chinese myths, stories and events of her childhood that have shaped her identity.
7.
Dove Arising by Karen Bao
is a sci-fi novel about Phaet Theta, a resident of the moon, who enlists in the Militia in order to save her siblings from living in a degrading shelter after her mother has been arrested.
8.
Where the Mountain Meets the Moon by Grace Lin
is a fantasy novel crossed with Chinese folklore.
Minli lives in the
Valley of Fruitless Mountain and
one day embarks on a journey to find the Old Man of the Moon in order to find a way to change her family's fortune.