Although it's still winter, there has been many wonderful cover reveals this week for Fall 2016 titles. I am super excited to see such ravishing cover designs. I know we're not suppose to judge a book by it's cover but sometimes the cover helps draw in more readers. I also love to see covers that portray the books well in terms of plot, characterization and themes. I cannot wait to dive into these books based on their synopsis but I hope each title has a cover that correlate with the novel as a whole.
Entertainment Weekly
revealed the cover to Lauren Oliver's
Replica
. I am definitely loving how there are two books in one. The covers are
VIBRANT
and the simple. Definitely check out the
interview
on the EW website. Also, Awesomness Films has acquired the movie rights to
Replica
earlier this month. You can check out more information on the
Deadline
site. Congrats to Ms. Oliver!
Title:
Replica
Author:
Lauren Oliver
Publisher:
HarperCollins
Publication date:
October 4, 2016
Synopsis (from goodreads.com):

Replica, the first of the two books, tells the story of Lyra, known by the number 24, a replica – human model – who was born, raised, and observed in a clandestine research facility called the Haven Institute. When Lyra escapes from Haven and meets Gemma, a stranger on a quest of her own, earth-shattering secrets are revealed.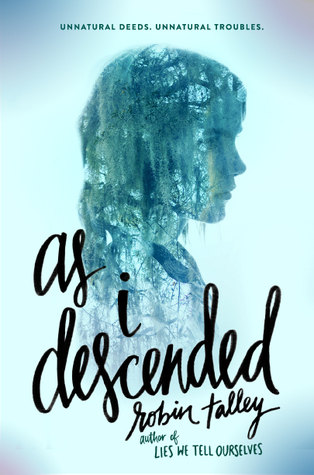 Epic Reads
released many Fall 2016 cover reveals this week. On Monday, they revealed the cover to
As I Descended
by Robin Talley.
This Shakespeare-inspired story of Macbeth is sure to please many this coming fall. Ready to see a book full of revenge and redemption? Also, how CREEPY is that cover?
Title:
As I Descended
Author:
Robin Talley
Publisher:
HarperTeen
Publication date:
September 6, 2016
Synopsis (from goodreads.com):

Maria Lyon and Lily Boiten are their school's ultimate power couple—even if no one knows it but them.

Only one thing stands between them and their perfect future: campus superstar Delilah Dufrey.

Golden child Delilah is a legend at the exclusive Acheron Academy, and the presumptive winner of the distinguished Cawdor Kingsley Prize. She runs the school, and if she chose, she could blow up Maria and Lily's whole world with a pointed look, or a carefully placed word.

But what Delilah doesn't know is that Lily and Maria are willing to do anything—absolutely anything—to make their dreams come true. And the first step is unseating Delilah for the Kingsley Prize. The full scholarship, awarded to Maria, will lock in her attendance at Stanford―and four more years in a shared dorm room with Lily.

Maria and Lily will stop at nothing to ensure their victory—including harnessing the dark power long rumored to be present on the former plantation that houses their school.

But when feuds turn to fatalities, and madness begins to blur the distinction between what's real and what is imagined, the girls must decide where they draw the line.

From acclaimed author Robin Talley comes a Shakespeare-inspired story of revenge and redemption, where fair is foul, and foul is fair.
On the second day of Epic Reads cover reveal week, the cover to
Of Fire and Stars
by Audrey Coulthurst was revealed! I cannot wait to read this debut fantasy novel and I am in love with the
STUNNING
cover design.
Title:
Of Fire and Stars
Author:
Audrey Coulthurst
Publisher:
Balzer + Bray
Publication date:
November 22, 2016
Synopsis (from goodreads.com):

Betrothed since childhood to the prince of Mynaria, Princess Dennaleia has always known what her future holds. Her marriage will seal the alliance between Mynaria and her homeland, protecting her people from other hostile lands. But Denna has a secret. She possesses an Affinity for fire—a dangerous gift for the future queen of a kingdom where magic is forbidden.

Now, Denna must learn the ways of her new home while trying to hide her growing magic. To make matters worse, she must learn to ride Mynaria's formidable warhorses before her coronation—and her teacher is the person who intimidates her most, the prickly and unconventional Princess Amaranthine (called Mare), sister of her betrothed.

When a shocking assassination leaves the kingdom reeling, Mare and Denna reluctantly join forces to search for the culprit. As the two work together, each discovers there's more to the other than she thought. Mare is surprised by Denna's intelligence and bravery, while Denna is drawn to Mare's independent streak. Soon their friendship is threatening to blossom into something more.

But with dangerous conflict brewing that makes the alliance more important than ever, acting on their feelings could be deadly. Forced to choose between their duty and their hearts, Mare and Denna must find a way to save their kingdoms—and each other.