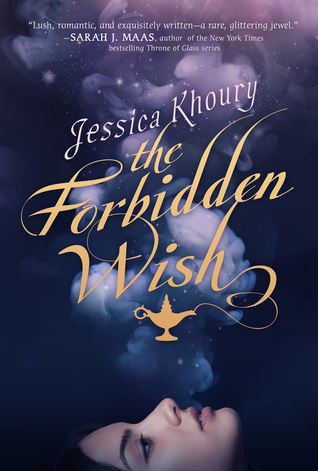 Title:
The Forbidden Wish
Author:
Jessica Khoury
Publisher:
Razorbill
Publication date:
February 23, 2016
Pages:
352
Source/format:
ARC from Penguin
Rating:
☆☆☆
☆
☆
Synopsis (from goodreads.com):

She is the most powerful Jinni of all. He is a boy from the streets. Their love will shake the world...

When Aladdin discovers Zahra's jinni lamp, Zahra is thrust back into a world she hasn't seen in hundreds of years -- a world where magic is forbidden and Zahra's very existence is illegal. She must disguise herself to stay alive, using ancient shape-shifting magic, until her new master has selected his three wishes.

But when the King of the Jinn offers Zahra a chance to be free of her lamp forever, she seizes the opportunity—only to discover she is falling in love with Aladdin. When saving herself means betraying him, Zahra must decide once and for all: is winning her freedom worth losing her heart?

As time unravels and her enemies close in, Zahra finds herself suspended between danger and desire in this dazzling retelling of Aladdin from acclaimed author Jessica Khoury.
M Y T H O U G H T S
Zahra has been stuck in a magical lamp for quite sometime until Aladdin finds her among ruins. As a jinni, Zahra is a slave to lamp. Her shape-shifting magic helps her blend in with her surroundings as a girl, a sparrow or as a cat. Zahra is offered the opportunity of a life time by the King of the Jinn but of course at a price. She is to save a jinn for her freedom from the lamp. However, she must complete this task in a month's time. If Zahra fails, death will rain among her and the people in the city she currently resides in.
I am a huge fan of Aladdin and I when I first started reading
The Forbidden Wish
, I was mesmerized by the elaborate descriptions and the lavish writings of Jessica Khoury. This retelling of Aladdin from
One Thousand and One Nights
is not a mere imitation of Aladdin but a extension of the world of the Aladdin that most of us know today. Khoury transports the reader as a spectator in this magical journey in which Zahra has to choose love or freedom. Which decision will Zahra choose?
The secondary characters are all unique as well and are not just mere background filler. Each character has its own identity. The Watchmaidens are fierce! Ensi with her magical potions, Khavar with her snake, Nessi with her Jinn charming flute and of course the Amulen Princess Caspida with her spirit and wit.
I found it interesting how Zahra tells her story like she is talking to Roshana. It works. She tells her encounter with Aladdin and about her journey as if it's a folktale. Her storytelling is entrancing and I wanted to savor it.
The romance between Aladdin and Zahra is forbidden but sometimes it is hard to resist happiness. Thank goodness for the slow burning romance. At first the two aren't too fond of each other but they gain the appreciation of each other's company. For so long, Zahra has been confined to her lamp and for so long has Aladdin been an orphan running around the city as a thief. Aladdin's main goal in life is to avenge his parents death while Zahra is trying to figure out whether freedom or love will make her truly happy.
Definitely check out
The Forbidden Wish
for a captivating retelling of Aladdin through the eyes of a female jinni. It's hypnotic and the novel contains just the right amount of action, adventure and romance.