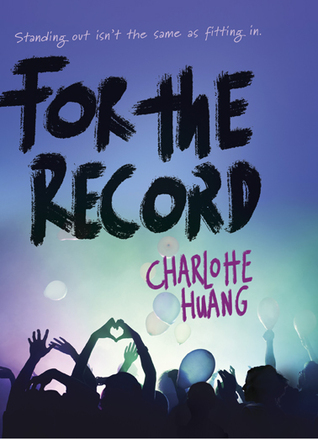 Title:
For the Record
Author:
Charlotte Huang
Publisher:
Delacorte Press
Publication date:
November 10, 2015
Pages:
307
Source/format:
Library//Hardcover
Rating:
☆☆☆
☆
Synopsis (from goodreads.com):

If Almost Famous were a YA novel . . . a raw, honest debut celebrating music, friendship, romance, and life on the road.

Chelsea thought she knew what being a rock star was like . . . until she became one. After losing a TV talent show, she slid back into small-town anonymity. But one phone call changed everything

Now she's the lead singer of the band Melbourne, performing in sold-out clubs every night and living on a bus with three gorgeous and talented guys. The bummer is that the band barely tolerates her. And when teen hearthrob Lucas Rivers take an interest in her, Chelsea is suddenly famous, bringing Melbourne to the next level—not that they're happy about that. Her feelings for Beckett, Melbourne's bassist, are making life even more complicated.

Chelsea only has the summer tour to make the band—and their fans—love her. If she doesn't, she'll be back in Michigan for senior year, dying a slow death. The paparazzi, the haters, the grueling schedule . . . Chelsea believed she could handle it. But what if she can't?
M Y T H O U G H T S
Because former singer Hollis Carter wanted a normal life, she left Melbourne. The band owes the record company one more album and Melbourne delivers by finding another lead singer. Chelsea Ford didn't make it on American Pop Star but she was able to score lead singer for the band, Melbourne. And boy is she on an interesting ride to fame and stardom.
Touring the nation and singing in sold-out venues, Chelsea is living a dream for the summer with her friend Mandy and her band mates, Pem, Malcolm and Beckett. However, living in a bus with a bunch of guys isn't the easiest and it's hard to live by certain rules Pem and management lay down. Romantic relationships between the band members are off limits which doesn't help Chelsea who is slightly smitten over Beckett.
Charlotte Huang shows music fans what it's like the be on the other side of the stage. It's interesting to see how a front woman fares with a bunch of guys touring around the nation performing show after show. I used to be a big concert goer back in high school and in college so
For the Record
is slightly nostalgic. It reminds me of when I was super excited to see a band and I was pumped up for the show. The energy, the rawness and grittiness. The unforgettable memories!
Huang gives each character a distinct personality. At first it took some time getting use to who is who but after getting all the names down, I am glad that there aren't carbon copies of each other. Everyone has their own story to tell. Seeing how musicians are constantly being told what to do either by the media or the record company is difficult. Entertainment can be cruel. It can be vicious! The sad thing is what's important to the media and the record company is the money and what is being produced at the end. After all, it's a money making business to them. They treat musicians in a way where the musician cannot express themselves fully.
To those sensitive to cheating,
For the Record
has instances of cheating. Although I do not condone in cheating, I know some of the behavior comes with the lifestyle. I enjoyed the extra Melbourne Business of the Music Tour info in the back of the book. It added something special to the novel and it gave a good timeline of all the events and a recap of characters.
I am a big sucker for novels showcasing any type of music and this novel did not disappoint. If you enjoyed reading
Nick and Norah's Infinite Playlist
or
This Song Will Save Your Life
, definitely check out
For the Record.