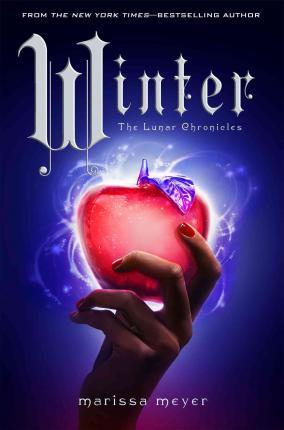 Title:
Winter
Author:
Marissa Meyer
Publisher:
Feiwel and Friends
Publication date:
November 10, 2015
Pages:
824
Source/format:
Library//Hardcover
Rating:
☆☆☆
☆
☆
Synopsis (from goodreads.com):

Princess Winter is admired by the Lunar people for her grace and kindness, and despite the scars that mar her face, her beauty is said to be even more breathtaking than that of her stepmother, Queen Levana.

Winter despises her stepmother, and knows Levana won't approve of her feelings for her childhood friend—the handsome palace guard, Jacin. But Winter isn't as weak as Levana believes her to be and she's been undermining her stepmother's wishes for years. Together with the cyborg mechanic, Cinder, and her allies, Winter might even have the power to launch a revolution and win a war that's been raging for far too long.

Can Cinder, Scarlet, Cress, and Winter defeat Levana and find their happily ever afters?
M Y T H O U G H T S
I am sure by now that most people have read the last installment of The Lunar Chronicles and I have to say it's pure perfection!
Winter
is definitely my favorite out of all the books in the series. Marrisa Meyer carefully weaves four fairy tales together and craftily creates a wonderful sci-fi world with kick-ass female characters. Her storytelling is captivating and makes the reader want more!
The character development is fantastic and the plot is on point. The transitions in POVs shift quite well. Each character has a distinct voice and I was never confused whose POV I was reading. Cinder, Scarlet, Cress and Winter are strong young ladies and each has her own strengths and weaknesses. But when all four combine their strengths, they are powerful. These young ladies are good role models for girls. It's okay if girls like science or want to learn to code. They can be pilots and can be outspoken. It's okay for girls to be beautiful, motherly and nurturing as well as dabbling into "boy" interests.
Meyer ends the series with a punch. I seriously was on the edge of my seat at certain parts of the book. I didn't think about someone saving Cinder or if someone will rescue Scarlet. The series is more about how will these female characters work with others to overcome obstacles. I questioned who will they work with in order to overthrow Levana. Never underestimate what Cinder, Scarlet, Cress or Winter can do.
This epic tale involves the smarts and wits of Cinder, Scarlet, Cress and Winter. Although each female has a romantic counterpart, the males do not save distressed damsels. Meyer shows how a female can be strong with or without a man. These ravishing ladies can do anything that a man can do and much more. The Lunar Chronicles is an empowering series that I highly recommend for those who enjoy reading fantasy, sci-fi and want to read books with strong female characters.